"As an Amazon Associate, I earn from qualifying purchases. Without Any Extra Cost to You!"
A complete home theater system without receivers? Doesn't make any sense, right? But there are hundreds of speakers available in the market. That makes it confusing to pick the best one.
If you prefer a cinematic hall-like experience, there is nothing that could beat Dolby Atmos. Specifically, that makes it harder to choose the best Dolby Atmos receivers for your home theater system. So, I have picked up the 3 best Dolby Atmos Speakers. That is able to give you true surround sound bouncing off the walls and ceiling of your room.
Tips That You Must Note Down Before Purchasing A Speaker
There are thousands of speakers available there. Hundreds of brands with hundreds of specifications. That makes it harder for you to make a choice or stick to that one speaker you need. So I would like to add a few tips that would help you in this regard.
Firstly, check whether your speakers are Dolby Atmos-enabled or not. If you want to experience the cinematic surround sound effect along with overhead sound, then you must look for Dolby Atmos speakers.
If you don't have a large room or have issues with your ceiling, then look for a speaker that includes plenty of mounting options. I own an abnormal room and it takes a toll on me as I don't have adequate mounting corners. So this is absolutely necessary.
Check if the speaker you intend to buy has 5-way binding posts. Now that would help you connect via any wiring options. That eases the accessibility greatly.
3 Cheapest Dolby Atmos Speakers For Your Home Theater
So let me present the 3 cheapest Dolby Atmos speakers. By 'cheap', I mean that you could get the best out of the speakers but without harming your pockets. The quality should never be compromised, right? Let's begin!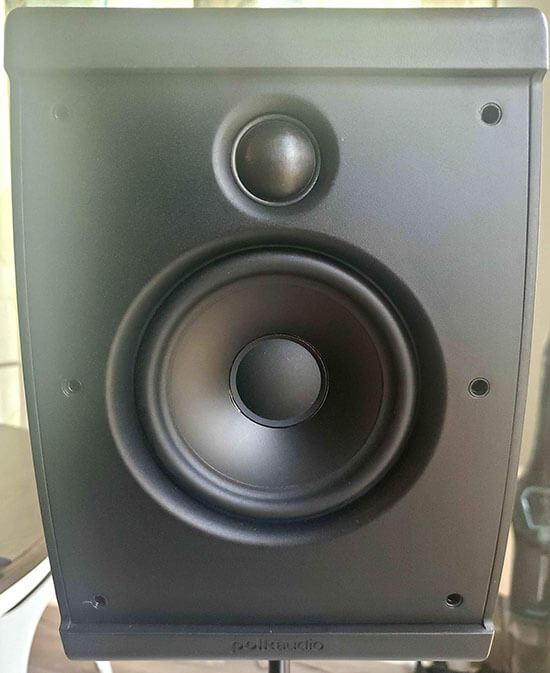 Let me grab your attention by presenting my favorite Dolby Atmos Speaker- The Polk OWM3. They are neither too heavy nor too light. A bunch of good speakers weighing only 4 pounds each. I am describing the key specifications below:
Unobtrusive design: This majestic speaker comes in a unique design. Unlike other speakers, it might not grab all your attention at the first glance. However, the overall plastic construction is slim and exclusive- no doubt on that. With a 100 hertz floor and 1-inch dome tweeter, they come in black or white color. And they are quite reasonable.
Mounting options: This speaker includes a number of mounting options. It works great no matter where you mount it- the wall, ceiling, or on the top of your stereo channels. Thus it welcomes versatility along with Hi-fi sound performance. Obviously, that depends on your home theater system arrangement. With the grills, you can also place them upright on flat surfaces.
Brilliant sound quality: To be honest, the sound quality is truly amazing. With a little bit of deep bass, the vocals are clear. The dialogues are loud and detailed. Its users hardly complained about its audio quality. When paired as surround speakers, they work brilliantly to achieve the true surround sound. So watching a movie with these speakers would be mind-blowing!
5-way binding posts: This is another feature its users talk about always. The 5-way binding feature lets you wire them in any way. You can use banana plugs or just some random pin wires and whatnot. It fits in anywhere that takes it a step ahead in case of accessibility.
Pros:
Lightweight
Plenty of mounting options
5-way binding posts
Real surround sound experience
Cons:
Might not be the perfect choice for front speakers.
If you want a versatile speaker with plenty of mounting options and true surround sound, you can surely rely on the Polk OWM3.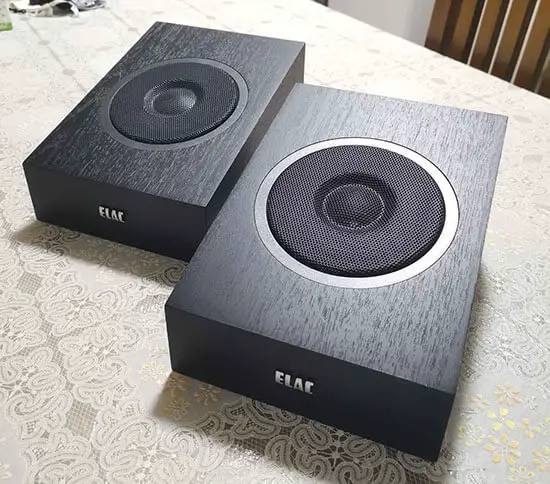 This is another great speaker that provides a true cinematic experience with detailed surround sound effects. I have personally loved the surround sound effects that are detailed and noticeable. Below comes the specifications:
Discreet frequency in both low-level and high-level: The Elac A4.2 comes with a four-inch Aramid fiber subwoofer and a two-inch tweeter. So be it high-level or low-level frequency rates, you are gonna hear every bit of the soundtrack. 
High-end surround sound: This speaker is said to provide atmospheric details more sophistically than any other brand in the market. They are exceptionally brilliant when it comes to high-end surround sound. 
Decent mounting options: They also got mounting options so that you can mount them on the wall. But don't worry because they won't protrude too far from the wall or ceilings. I'd recommend mounting them as it creates a dimensional illusion effect. You can also add them as your front and rear speakers.
5-way binding posts: They are equipped with 5-way binding posts and corrosion-resistant gold contacts. So wire them any way you want to without the chances of facing any harm. Plus, they come in at a moderate price.
Brilliant Dolby Atmos effect: The Dolby Atmos technology expands the sonic landscape, thereby developing a 3D space that genuinely feels real and majestic. Along with a woven arrow mid fiber woofer and a custom concentric driver, the dialogues and other sound effects are integrated to another level.
Great sound quality: Sound quality is crystal clear and solid. Thereby it triggers your cinematic experience to a whole new level. Plus you can notice all the minor details in a soundtrack
Pros:
Impressive sound effects
Top-notch Dolby Atmos effect
Supports both high and low-level frequencies
5-way binding posts
Cons: 
These speakers don't have magnetic shielding. So don't place them near other speaker cables.
You may read also the best DIY speaker making kits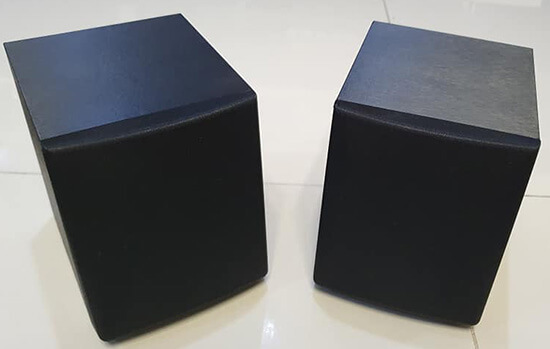 When you are talking about upfiring great configuration, then this receiver will slide in! Just place it on top of your front stereo channels and enjoy its amazing true height effects from all directions. 
Multi-dimensional true surround sound: This speaker comes in a pair with a Dolby Atmos-certified network for multi-dimensional 3D true surround sound. That definitely includes sound bouncing from the top of your head as well.
Build-up material: High-quality wooden cabinets that can accept 100-watt inputs. Plus they are convenient to mount on the wall.
Realistic sound effects: They also come with 3-meter and 10-foot speaker cables. These speakers allow localized effects so you get a realistic and cinematic sound moving all over your surrounding. When paired with the central speaker channel system, the movie dialogues and overall effects appear clear and discreet.
Anti-vibration effect: Another amazing feature it got is the anti-vibration effect. This works as a protection for your speakers.
Pros:
Anti-vibration effect
Overall, highly impressive 3D dimensional sound effect.
Cons:
Lacks banana connectors
If you are looking for one of the best Dolby Atmos speakers that can provide detailed sound effects and 3D spatial sound, then I'd recommend this speaker to add to your home theater system.
Comparison Table
Speakers
Specification
Available On
Polk OWM3
> Variety of mounting options
> Outstanding sound quality with
immersive Dolby Atmos effect
> 5-way binding posts
Check Here
Elac Debut 2.0 A4.2
> Immersive Dolby Atmos effect
> Clear audio in both high-level and
low-level frequencies
> Lacks magnetic shielding
Check here
Onkyo SKH 410
> Multidimensional 3D surround sound
> Anti-vibration effect
> Lacks banana connectors
Check Here
Frequently Asked Questions
When it is about Dolby Atmos Speakers, there are thousands of options available in the market. That specifically makes it more confusing. So people come up with a number of frequently asked questions concerning this topic. Thought of sharing a few here to resolve your queries.
Can any speaker be used for Dolby Atmos?
Ans: Yes, you can basically use any speaker for the Dolby Atmos effect. But that is not going to be so immersive and cinematic. Those might lack height effects as well. How  For a true 3D surround sound experience, you have gotta need those Dolby Atmos speakers.
How many speakers are needed for Dolby Atmos?
Ans: Well, the formula is: The more speakers, the more illusional and immersive surround sound effects. However, I'd recommend installing four speakers. With the help of these four speakers, the overhead sound will be more clear and noticeable. Thereby you'd enjoy Dolby Atmos content more precisely than ever before.
Conclusion
There you go! Hope you find this article helpful! I personally believe that there is no shortcut to Dolby Atmos for a cinematic experience. And once you feel that illusional vibe, you'd ask for more!! So good luck with your Dolby Atmos speaker! Hope you pick the most suitable and deserving one for yourself!