"As an Amazon Associate, I earn from qualifying purchases. Without Any Extra Cost to You!"
Are you stressed about deciding what Dolby Atmos receiver to purchase at the cheapest price? Then this article is where all your concerns would come to an end. 
In this article, I am gonna pick up the 4 cheapest Dolby Atmos receivers that you can try for your home theater system. Now when you read the word 'cheap', don't start getting confused with the quality. These receivers would render a good performance without harming your pockets at all.
Table Of Content…
Buying Guide: Tips You Should Consider Before Buying A Receiver
Before I start, I would like to add some points that you should note down while looking for Dolby Atmos Receivers. 
The first thing that you ought to check is whether the receiver you are looking at supports the majestic Dolby Atmos Surround sound. Not every receiver does that so you gotta ensure that.
If you are mainly focusing on the true Dolby Atmos effect, check whether the receiver has the capacity to deliver the true 3D surround sound. Or it just brings you some virtual surround sound. Otherwise, you might be disappointed later.
Check whether there are adequate connectivity options. If you are willing to use your receiver for multi-room purpose, then you gotta make sure that there are more than a single HDMI output. Moreover, the receivers these days include multi-room features separately so it's an added bonus.
4 Cheapest Dolby Atmos Receiver
I have personally tried these 4 cheapest Dolby atmos receivers myself. So I am gonna share the Pros and Cons as well. I believe that would make choosing easier for you.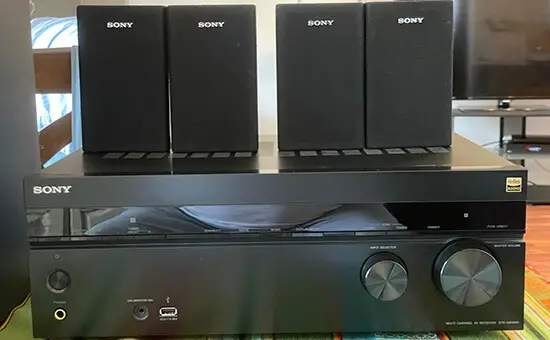 This Dolby Atmos receiver could act as the main ingredient of your home cinemas. As it lets you connect to a number of source components. Being able to provide the true surround sound of Doby Atmos, it also acts as a power source to your main loudspeakers.
Auto speaker setup and auto-calibration feature: Another best thing about this receiver is that it offers auto speaker setup as well as auto-calibration. With an auto speaker, you get notified about the various aspects of the system you use. That includes the location of your speakers, volume range, and so on. While auto-calibration lets you conduct tests from the speakers of your system easily.
Adequate HDMI: The Sony STR-DN 1080 has six HDMI inputs and two HDMI monitor outputs that let you run multiple displays in multiple rooms! To note down, all these HDMI inputs are independent and support 4k pass through.
Plenty of Connectivity options: It also comes with all the important connectivity options including Wi-Fi, Airplay and the list goes on. You also get a built-in Chromecast feature that eases your accessibility. There is also built-in Spotify that acts as a bonus if you opt for Digital streaming platforms.
Easiest setup: This receiver is the easiest when it comes to setup. You get a basic Menu guide where they address all the procedures. That is helpful for a buyer to understand and implement. And the Menu system also includes an Automatic speaker setup and Room Equalization Software. When you run this software in its Engineer Mode, it delivers a dynamic and punchy sound all over your room. That way, Sony lets you enjoy every bit of action while watching. 
Smooth integration: Additionally, its users love it for the smooth integration. A lot of reviews talk about enjoying the smooth integration between their smart devices and the receiver.
Delivers great performance in terms of power: Even though Sony claims it to have 165 power, it isn't actually that accurate. But then again, it renders to give you the best experience irrespective of any speakers that you use.
Clear bass: The bass is pretty good overall. It might not be so deep but when it comes to firmness and clearness, it's pretty sleek. Then again, the bass highly depends on the setup and placement of your subwoofer.
Dolby Atmos effect: It delivers true Dolby Atmos surround sound very smoothly. Maybe not the immersive ceiling height sound yet the dialogues are crisp and clear. And the 1080 feature lets the receiver integrate with the speakers to their full potential level. You'd notice the sudden vibe and action every time! 
Overall, this is a receiver that provides the Dolby Atmos effect with fair good performance. If you are new to the home theater system, you could definitely try this.
Pros:
Smooth integration with the smart devices
Generous in providing the true Dolby Atmos effect
Clear bass
Auto speaker and auto-calibration
Very easy setup for the beginners
Cons:
It claims for being a 7.2-inch speaker whereas it delivers the performance of 5 speakers.


Sony is quite famous for coming with high-resolution audio and streaming options. This receiver is no different from that. I was literally amazed by the music of this particular receiver. Let's look at its specifications:
Connectivity options: There are four HDMI inputs and one HDMI output. All of them support 4k. Besides you also get an e arc for HDMI output. There is also an option where you can also set the distances of your audio by an inch or two.
Heavy remote: The remote is kinda bulky in weight compared to the remote these days. I was finding it uncomfortable to hold and control. And the quality is poor anyway. Maybe that's because to keep the price low. However, it has got all the accessibility options just like any other remote. The remote also comes with batteries.
Pretty good movie performance: Sony receiver works really well with the movies. The dialogues are smooth and clear. You might not get that hyped energetic feeling. Like the sound might not bounce off your walls or ceiling like the high-end receivers. But overall the performance is good.
Impressive music quality: Whenever you talk about high-resolution audio, Sony nails it all. The receiver is not different in this case either. As a matter of fact, I haven't used any other external amplifiers. Along with the Dolby Atmos, the music performance was excellent overall. And that's a bonus at this cheap price! Moreover, its users reviewed that this receiver works better for music rather than movies.
You might be interested in troubleshoot denon receiver problem
Pros:
Impressive music performance
Barely need external amplifiers
Cons:
Average performance for movies
Bulky remote
Overall, this receiver works well because you get amazing movie and music quality at just an entry-level price! This is quite amazing so you should check this out!

If you are opting for a receiver that has a generous amount of connectivity options as well as brilliant audio performance, then check out the specifications of the Yamaha RX-V685 7.2 Channel AV Receiver.
Connectivity options: This receiver got some decent connectivity options. You get 5 HDMI inputs and 2 HDMI outputs. Besides, there are 2 coax ports, a wireless port, USB connectivity, Bluetooth, and other necessary ports. All the basics you need, you got it here.
Impressive audio quality: Yamaha receivers are getting popular for their audio performance day by day. And this one is also going in that same route. Many users tried this receiver and they were literally impressed to hear the clear and bouncing audio all over their rooms.
Phono output: Additionally, you will get a phono output to use with a turntable. This will help to tone the balance of the audio and restore its originality.
Dual room setup: The 7.2 channel receiver also includes a dual room/multi-zone feature that lets you enjoy a particular content on two rooms simultaneously. It also includes a 2nd HDMI output. So you can watch identical content on two different TVs at the same time. There is also a Zone 2 speaker setup that lets you enjoy stereo music separately in another zone.
Atmos quality: Hands down to its Atmos quality. At this price, it is truly remarkable. The sound was literally rolling all over the room. And I was able to experience the real 3D Dolby effect.
Good music quality: The music quality might not be the superior high-end type. Yet the vocals were clear due to the treble and mid-range response of this receiver.
Yamaha App: To ease your accessibility. This receiver also got an app that works both in Apple and Android versions. So if you are bored overusing the remote, consider installing the Yamaha app and controlling your receiver via your phone. 
Pros:
Dual room setup
Decent connectivity options
Brilliant audio quality
Cons:
It does not comply with the speakers.
On the whole, if you are looking for an AV receiver at an affordable range, then this could be one of the best options to try out.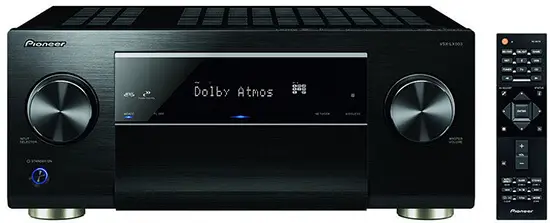 This is also another great receiver that you get to purchase at a very affordable price. However, the quality is top-notch and the overall performance will blow your mind!
Plenty of Connectivity options: This is a 9.2 channel receiver that holds up to 120W for each channel. It includes 7 HDMI inputs. One of them is placed right on the front. The HDMI inputs are 4K pass-through enabled. And they also support HDCP 2.2, HDR 10, Dolby Atmos, and more. With 2 HDMI outputs, you can watch the content from another room or device. There is also a USB port on the front and a 3.5 mm stereo input jack for quick audio playback.
Wireless streaming feature: This receiver also has plenty of wireless streaming options. You can stream unlimited via Bluetooth, Wi-Fi, Airplay, Sonos, Built-in Chromecast, and so on. 
Flare Connect technology: Pioneer has also got this feature that enables you to use multiroom audio. You can select music from your device or streaming platform and add it to your playlist for continuous playback. There is a manual where it instructs you on how to get connected.
Pioneer remote app: There is also Pioneer remote app that lets you control and access playback music or music selection. This app is available for both android and apple devices.
Built-in calibration: Moreover, the built-in calibration system along with the calibration microphone works brilliantly for audio all over your room. Overall, this feature works great to deliver 5.1.2 or 7.1.2 true surround sound. And that's a lot to ask for at this price!
Pros: 
Built-in calibration
Pioneer remote app
Flare Connect technology
Pretty decent connectivity options
Can load up to 120W per channel
Cons:
You get a lot of better options at this competitive price
Overall, I'd call it a good performer. It has got all the basic stuff you would expect from a decent receiver. Along with that, the audio performance is impressive. So, yeah my vote on this!
Comparison Table
Receivers
Specification
Available On
Sony STR- DN 1080 7.2 Inch Surround
Sound Home Theater AV Receiver
> Auto speaker setup and auto-calibration
> Plenty of connectivity options
> Immersive Dolby Atmos effect
> Smooth integration capability
Check here
Sony STR DH-790 7.2 Channel
> High-resolution audio feature
> Bulky remote
> Impressive music and movie quality
Check here
Yamaha RX-V685 7.2 Channel
AV Receiver
> Phono output
> Dual room setup
> Brilliant Atmos quality
> Yamaha App available
Check here
Pioneer VSX-LX 503 9.2 Channel 4K
UltraHD Network A/V Receiver
> Connectivity options are superb!
> Pioneer Remote App
> Built-in Calibration
> Plenty of Wireless streaming options
> Flare Connect Technology
Check here
Frequently Asked Questions
Here I would like to add some frequently asked questions concerning Dolby Atmos receivers. Since there are plenty of options available in the market, you must have a number of concerns. And that is why I have added this section here.
Do all receivers support Dolby Atmos?
The old school ones- more specifically, the older models might fail to support Dolby Atmos. However, to get the true Dolby effect you must need an AV receiver because it will decode the Dolby Signal and deliver a true surround sound experience. That might be missing the old cheaper models so you gotta check.
Can a 7.1 receiver play Atmos?
Definitely! All the 7.1 receivers till today support Dolby Atmos effectively. So if you have a 7.1 AV receiver, watch movies, music, or anything experiencing a theater-like surrounding all over.
Do you need height speakers for Atmos?
If you want to receive the top-notch Dolby Atmos effect right at your home, then height speakers are a must along with an AV receiver. The True bouncing-off-the-wall sound is not inevitable without the height speakers.
Conclusion
So this is what I have got for you! If you are looking for Dolby Atmos Receivers at the cheapest possible price, consider checking out the above options. Hope the list makes it easy for you to pick up your desired receiver.
Good luck with your Dolby Atmos receiver!