"As an Amazon Associate, I earn from qualifying purchases. Without Any Extra Cost to You!"
You travel a lot, could be for business, could be for work or just to explore. Whatever the reason is you intend to have a compact and quick communication system.
So you can communicate for help or any reason where the mobile signal is very weak.

Uniden PRO510XL is an incredibly lightweight and competent 40-channel CB phone.
This compact, ultra-mobile radio offers high-performance FCC-authorized operation with 40 channels. 
You would want to save money for your CBS if you drive a smaller car. Uniden PRO510XL is good for you in this situation. 
Despite its lightweight size, the RF output is still complete with 4 watts and you can't imagine CB radio without a noise monitor.
Let's check our Uniden PRO510XL Review Table of content.
Let us give you a short description of the Uniden PRO 510XL's specifications and key features.
Uniden PRO510XL Review: Specification
There is nothing much to explain about the specification :
Dimensions: 1-3/8" (H) x 4-1/2" (W) x 6-3/4" (D)
Weight: 1.53 lbs.
Now let's talk about its features. Further below we will describe them elaborately.
You may be interested in uniden bearcat 980 vs cobra 29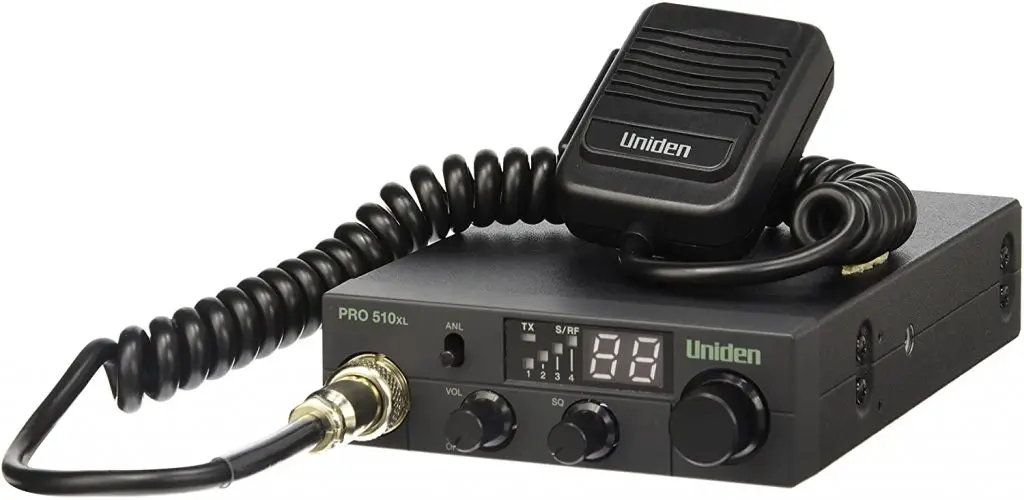 Features :
Automatic Gain Control
Public Address Capability [most important]
Superheterodyne circuit
Automatic Noise Limiter (ANL) Switch
User Friendly
Now let's briefly describe all the key features so that you can have the exact idea. 
But if you are short on time and want to purchase this right now, then please Click Here, and let us guide you to purchase the Uniden PRO510XL.
Automatic Gain Control
You will, of course, want a feature that controls your signal power, which will help you in every situation of the environment. 
This device is fitted with an AGC circuit that monitors less than 10 dB of audio output transition from 10 to 50,000 microvolts.
The dedicated switch on the front fascia of the unit controls this feature, making it very easy to turn it on and off.
One of  the most important features 
Public Address Capability [most important]
Let's say that you're going into a really noisy environment, like an urban city. And you're going to consider that here on the spotter.
An external speaker attachment will intensify the sound with PA systems. Since the speaker is marketed outdoors. It's ideal for both domestic and commercial applications.
When walking the woods with friends or relatives, you can use the device to call people out whether they're confused or too far away to hear you.
Superheterodyne circuit
The Uniden Pro510XL can be used to remove noise and improve communication reliability and clarity with an integrated ANL and squelch control.
And if the other person is far away, you can hear loud and clear. We were flattered by this feature.
Automatic Noise Limiter (ANL) Switch
Suppose you still want to find the right channel or send a message to your phone. Yet you're incredibly disturbed by all those sounds. 
ANL can calm signal receptions effectively and therefore increase the quality of the received signal. For ANL one of his rivals is Pro 510XL. 
The radio thus allows the user, with its customizable squelch control mechanism, to efficiently eliminate this sound. The regulation of Squelch varies the filter sound.
User Friendly
It does not matter how much advanced your CB radio is, if you are not getting used to it, or we can say its features are not letting you to, then there is no point in using such CB radio.
The Uniden Pro510XL is possibly featured with every "ease of use" component.  To continue with, the controls are for apps that you use on a regular basis and nothing more. Only four inputs are on the PRO510XL.
 As for compatibility gains, 510XL CB is much harder to install in late model cars, SUV and trucks, so large radios are more compatible.
Bright LEDs on the display and clear LED levels improve usability while you are driving consistently.
If you have reached this point you are already aware of the Uniden PRO510X's specifications and feature details. Now, let's meet you with its negatives and positives.
You may read also the galaxy dx 959 review
Uniden PRO510XL Pros (Positives):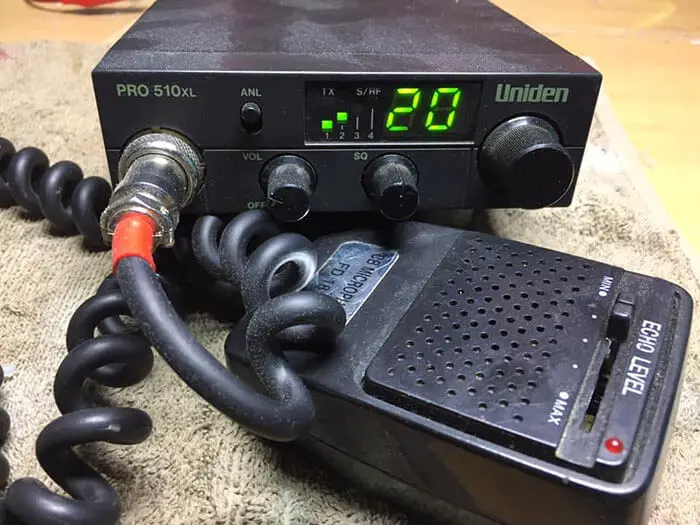 Simple, compact, and easy to mount on any vehicle. Lets you save more room.
RF gain control comes out in handy in noisy surroundings. So you can hear and talk loud and clear.
ANL and NB can quiet the signal receptions. It helps you to calibrate the signal more easily.
Equipped with a quick change to channel 9 and Squelch tuning. So you can call for emergency help with just one tap.
Uniden PRO510XL Cons (Negatives): 
Uniden PRO510X can't be called anything as bad, but we did have a look at that beautiful piece of equipment.
No weather channels. Which can bother you a bit, because you will be unaware of the coming weather report. 
Like DX 949 the  Uniden PRO510XL  does not support the talkback feature. So it is kind of difficult to know, what is the other person hearing.
Otherwise, we could not find anything wrong with the Uniden PRO510XL.
These are some common question that is asked about the Uniden PRO510X
Frequently Asked Questions about

Uniden PRO510X
Are Uniden CB radios good?
Yes without any doubt Unidens are good radios.
What is the ANL switch on a CB radio?
The Noise Blanker and Adaptive Noise Limiter minimize the amount of ambient undesired disturbance that can be produced from several sources.
What does SWR Cal mean on a CB?
Standing Wave Ratio. Many CB radios have an integrated antenna system tester.
Bottom Line
If you get a Honda, a Ford, or a Jaguar, you're the CB. The rugged and rigid architecture of the PRO510XL makes it an ideal alternative for commercial or off-road applications.
This heavy-duty CB is quite appropriate for any use, very frankly. 
Well-made and durable build, it makes it the perfect option for road enthusiasts with a metal structure…
This ultra-compact system offers the best-quality licensed FCC 40 CB channels competitive with big, high-priced radios. 
The Uniden PRO510XL is an ideal alternative for CB Radio users or for someone who just wants a simple CB.