"As an Amazon Associate, I earn from qualifying purchases. Without Any Extra Cost to You!"
Ease of communication is a must nowadays. Compact, durable, flexible, and easy to use communication system attracts us more.
While you are driving or riding you will want a communication system that will give you more liberty to operate at your will.

While driving, how will it feel to dig through your CB radio to find the right channel or the right operating button? The answer is, AWEFUL !!
Don't panic, Galaxy DX 949 is here to rescue you. So let's take you on a tour to about its full review and let you have the knowledge about the Galaxy DX 949.
Let's drive in deep…
Let us give you a short description of the Galaxy DX 949's specification and key features.
Galaxy DX 949 Review: Specification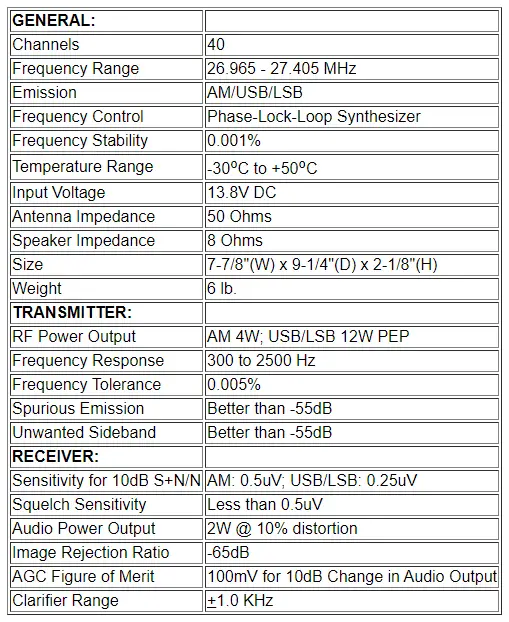 This screenshot get from Galaxy Radios
There is nothing much to explain about the specification :
Dimensions: 7 7/8″ (W) x 9 1/4″ (D) x 2 1/8″ (H)
Weight: 6 lbs.
Now let's talk about its features. Further below we will describe them elaborately.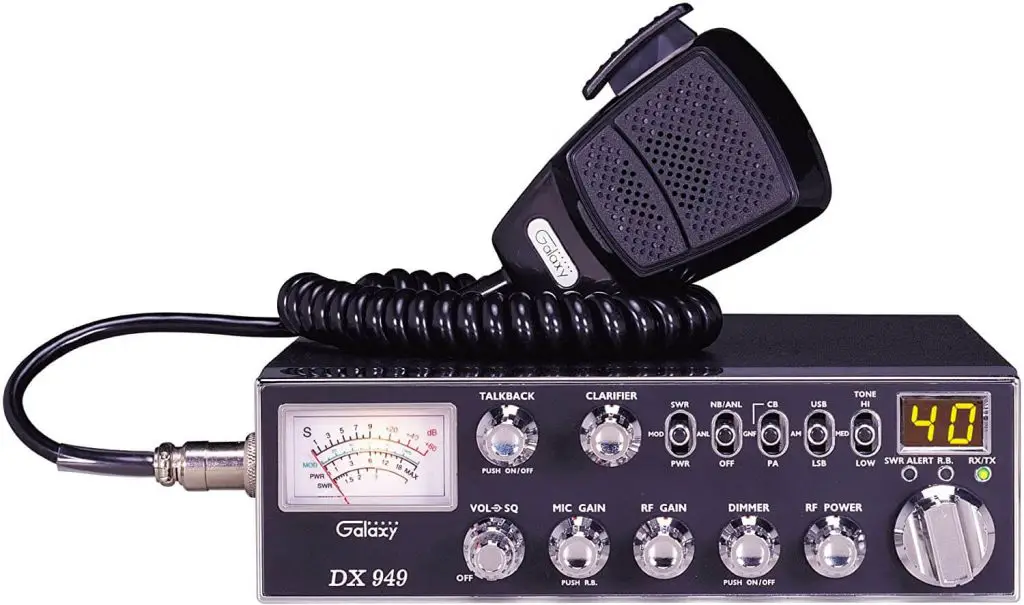 Features : 
Tactile operator
Manual output
Signal Strenght Indicator
Noise Control
Manual mic sensitivity
Manual Backlit Control
Illuminated Backlit Display
(PA) Public Address Capability [most important]
Now let's briefly describe all the key features so that you can have the exact idea.
But if you are short on time and want to purchase this right now, then please check the Latest Price, and let us guide you to purchase the Galaxy DX 949.
Tactile operator
The tactile system is simply a durable, reasonable, and user-friendly system, especially in the case of a trucker or professional user. It interacts with humans just the way you need. 
It allows you to operate the CB with fewer mistakes and also records your operating time. Compared with old buttons and clicks, you get better input while running. Such functions make the user feel fantastic by operating this CB.
Manual output
The Galaxy DX 949 does not want to be left helpless, while you will be roaming around busy areas. That is why it is giving you the power of controlling the power output manually.
This allows for granular control, allowing you to change the strength of the device to match various working situations.
Signal Strenght Indicator
Where is the advantage if you have to dig your CB radio's backlit display with your eyes for any kind of information? 
Galaxy DX 949 made sure that you don't feel this kind of bothering.
A large display is provided so that you can read the meter at ease and measure modulation, power, and SWR.
You may be interested in this guide uniden pro 510xl review
Noise Control
Suppose you are consistently trying to find the right channel or trying to send a message to your selected channel. But with all those noises you are very much bothered. 
The radio thus enables the consumer to practically remove this sound by means of its adjustable squelch control feature. Squelch regulation varies the noise from the filter.
Manual mic sensitivity
You can literally adjust the microphone as per its sounds. You can hear the sound of your own talking as the person on the other side is hearing. So you can adjust the output volume to reduce or increase.
Manual Backlit Control
While driving a capable CB radio with Light sensitivity can increase a driver's performance and driving security. The  Galaxy DX 949 is featured with multilevel backlit control. According to your environment, you can adjust your backlit.
Illuminated Backlit Display: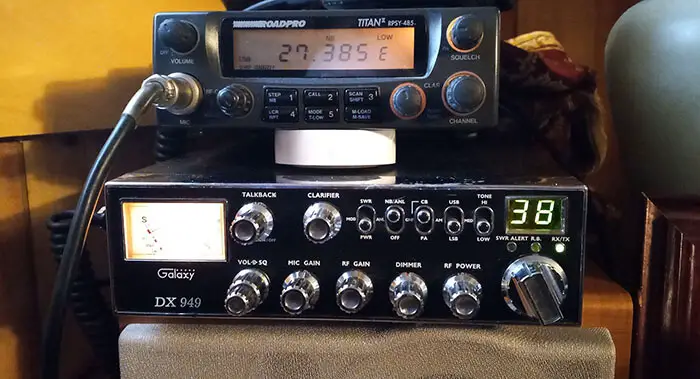 The backlit display is featured with LED analog system. Somehow if your CB radio display is brighter or darker than you need, the LED will help you read the correct information. 
Backlighting is especially necessary for service in dark weather or in certain challenging situations, such as dusty areas.
Backlighting offers a great deal of protection as an operator, as you can read the indicator and calculate easily to get back to the road.
Here comes the most important feature of all 
(PA) Public Address Capability
Let's assume you are driving through a very loud environment, like an industrial area. So you will find it to hear on the spotter.
With PA systems, an external speaker connection can amplify your sound. Because the speaker is sold outdoors. In Spite of being so significant, many of us are not aware of this program.
This helps a lot if you're going to have to announce it to the public.
If you have reached this point you are already aware of the Galaxy DX 949's specifications and feature details. Now, let's meet you with its negatives and positives.
You may read also the galaxy dx 959 review
Galaxy DX 949

Advantages
The power performance management function lets you control its power output manually.
Dimmer Control Variable for visibility and safety of the user lets you manually control this CB radio's backlit display.
With Roger Beeps, with an on/off indicator and an on / off indicator operated.
The Audio quality is better than any other CB radio.
Galaxy DX 949 Disadvantages
There is nothing much to say as negative about DX 949, yet we got some review that is against this beautiful piece of machinery.
On heavy usage, it sometimes lacks power, so you might experience poor performance.
On SSB mode, its transmitter may perform just not right.
Otherwise, we could not find anything wrong with the  Galaxy DX 949.
These are some common questions that are asked about the Galaxy DX 949 CB Radio
Frequently Asked Questions
What Is The Range Of Galaxy Dx 949 Cb Radio?
About 3 to 20 miles
How many watts does a  DX 949  put out?
Galaxy DX 949 is a 4-watt CB radio, not an export, and not 50 watts.
How much power does a Galaxy CB radio use?
On average, some models hit around 15-18 watts
Bottom Line
If you are looking for an expense-friendly CB radio, then you should definitely go for Galaxy DX 949.  Its solid conventional architecture means business and the project has been going on for years.
However, if you are intending to use it on an industrial basis, we will not recommend this for you. Heavy impact usage may affect its performance.
If you are an owner of a large vehicle, only then purchase this CB radio, as it requires a lot of room to fit. 
The Galaxy DX 949 AM / SSB provides users with affordable packages that need long-term SSB communications.
The ending side of Galaxy DX 949 Review, hopefully! you enjoy it. Now I would like to hear from you which feature is the best Galaxy DX 949? Leave a comment below.