"As an Amazon Associate, I earn from qualifying purchases. Without Any Extra Cost to You!"
If you need a portable communication tool what's the first thing that comes to your mind? I bet it's a mobile phone right? 
But let's think deeper, suppose you have a nine-year-old daughter in your house and she doesn't know how to operate a phone or isn't allowed to use a phone yet.
When she goes out to play how would you ensure her safety? The answer is simple, through a walkie-talkie, right? In this article, we will talk about the two-way radio which is perfect for you.
BaoFeng BF-888S Walkie Talkie is perfect for construction workers working in warehouses, security guards in stadiums and concerts, hikers, and communicating with your friends and family where there is no network. 
Table Of Content…
Let's talk about the BaoFeng BF-888S specifications of this walkie-talkie: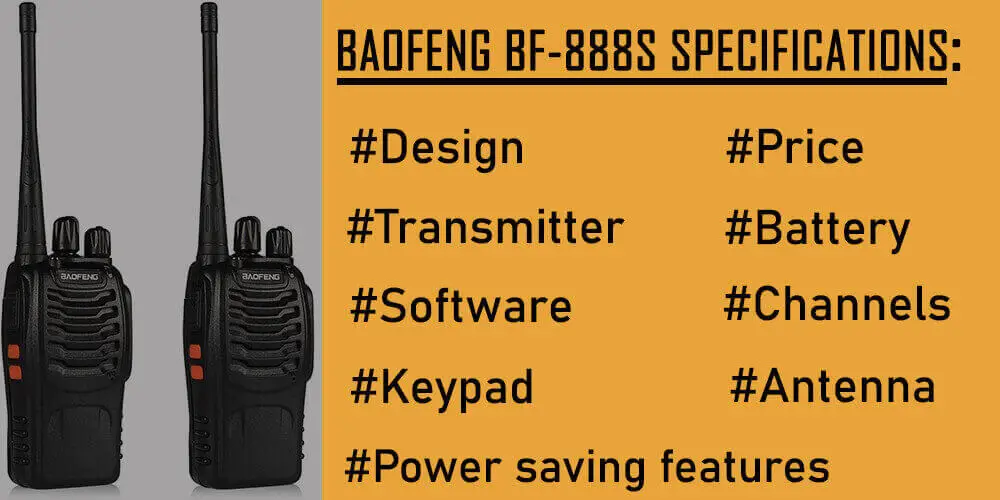 Design: 
The device is light weighted and manufactured in such a manner so that the user can carry it at ease. The color of this walkie-talkie is black. And the buttons are placed on the right sides. It is a single-band design, handy for all users.
Transmitter: 
The transmitter is really great. The sensitivity of the earpiece is pleasing for such a price. The transmitter can reduce the audio Distortion up to 5 percent. It has a 3w rf power output.
And the device can transmit a current of approximately about 1.3 amperes. The voltage for operating consumes about 3.7V
 Software: 
The software that you will require is chirp (which is free). Each transmitter will require separate programming. It is easy to use. You will also need a programming cable.
The cable isn't expensive either. The frequencies can be changed by programming also; you don't need to worry it's not that hard, you can do it by yourself. 
Keypad: 
There is no keypad which makes it easier to use. Having a keypad will make it more complex hence it would be no longer suitable for people of all ages. 
Price: 
The price is affordable. It's only 20 bucks. The quality, standard, and functions all work great. You couldn't ask for more!  Check it out from Amazon.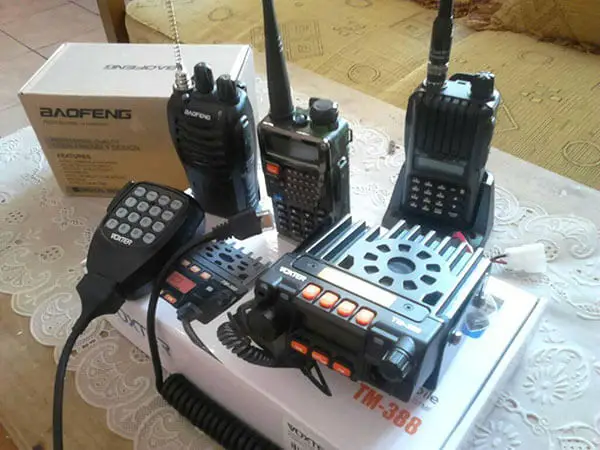 Battery: 
The model comes with a 1500 MAh Li-Ion rechargeable battery. The battery life is great. It gives you up to 8-9 hours back-up.
This is awesome! And when the battery is about to drain up it will give you a low battery warning as well. And it takes only three hours to get fully charged. With normal usage, it can go on for more than a week. 
Channels: 
There are sixteen different channels and when you switch from one channel to another, the speaker will let you know about which channel you are switching to. Don't forget to program your channels before using it. 
Antenna: 
The package comes with an attached antenna and it covers a pretty good amount of range. The good thing is it is removable so if you need more range you can replace it with a longer antenna. 
 Power-saving features: 
The model comes with some power-saving features. It gives low voltage alerts and the charger dock will store power to boost its LED when it is unplugged. It has Emergency Alarm for elevated Flashlight.
You may read also BaoFeng vs yaesu
Key Features: Here are the key features for this walkie-talkie.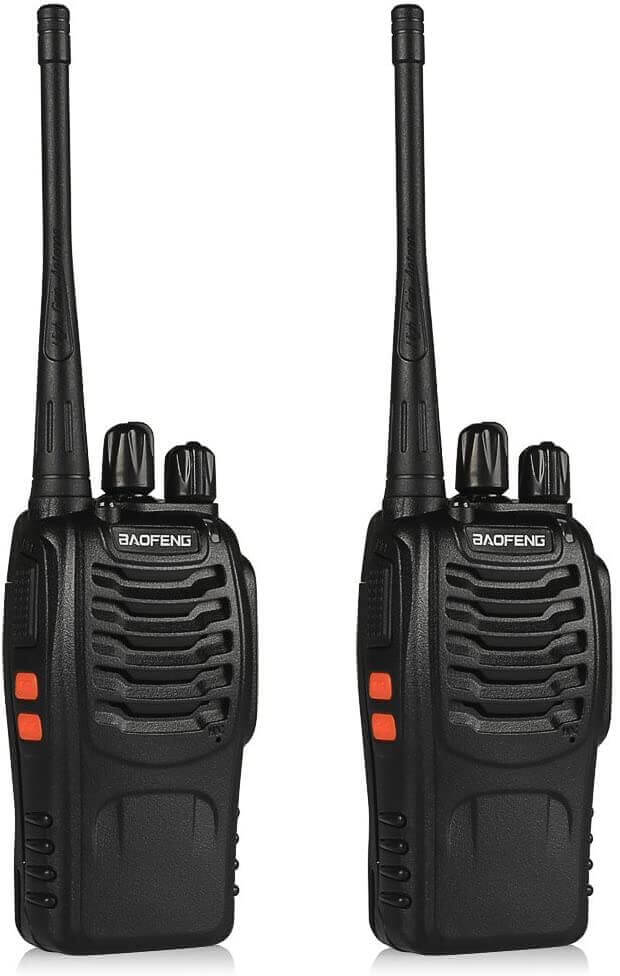 The frequency range is UHF 446-446.2MHz 
It has 50Ω antenna impedance 
Power saving modes 
Built-in LED flashlights 
Single-band having a single frequency 
16 different frequency channels 
Very compatible and light weighted 
The sound quality is very clear and it covers a huge range without any abrupt signal disturbance. 
The range is massive. Covers up 3 to 4 kilometers while providing clear and strident sound 
It has FM radio as well and you can plug in your headphones as well if you are walking or on the move. 
BF-888S has a USB desktop charger so you can charge it with your laptop if you are driving and going somewhere. And the scanner is proficient. 
BaoFeng BF-888S Pros: 
The device has a good battery life which is the main thing. It gives you a good backup and with the least usage, you don't have to worry about charging it. 
The LED flashlight is unique. It's convenient for security guards who have night duties. 
It's simple and parents can entrust this device to their children for security issues. 
The sound quality is great which can cover up to 4 kilometers 
The price of this walkie-talkie is cheap and with this price, you get all these distinctive features. This is remarkable. 
You can communicate with your friends and family with this device during natural calamities when there is no network coverage. And it is very responsive. 
It is equipped with a voice scrambler. 
You may interest into check our best bike radio review
BaoFeng BF-888S Cons:
The flashlight isn't bright enough to cover a good distance. It's only enough for you to take a few steps and see where you are going. 
The radio belt clip is not that strong, it might shear off under least pressure. 
You can't use it right away upon arrival. It has to be legally issued and properly licensed. 
Frequently Asked Questions Baofeng BF-888s
The most common questions asked about BF-888S are: 
Is it waterproof? 
No, it isn't. However, it resists a lot of it but we suggest that you use it in the dry area. 
How much range does it cover? 
It covers up to 4 kilometers without any sound defect and 1-10th floor in a tower or building 
Can this radio adjust to radios of similar brands? 
Yes, you can tune in to any UHF frequency. You have to be careful not to air into emergency units or police frequencies. 
Wrapping Up: 
Overall, it is to be said that the BF-888S is convenient for all users. And it's affordable and it comes with a lot of features and compatible qualities which are suitable for all users, especially for construction workers and security staff.
The setup and programming are very easy. The range is excellent as well as having good sound quality. This is all about the Baofeng BF-888S review. 
The main prohibiting aspect is the fact that it is programmed by a PC. If you don't have a laptop or PC you'll have a hard time getting this device programmed.