"As an Amazon Associate, I earn from qualifying purchases. Without Any Extra Cost to You!"
Home theatre is a great source of entertainment. Just imagine, it's a lockdown out there. You are sitting on the sofa, enjoying your favorite TV show or music. Nothing can be more relaxing than this.
However, if you own a TV or home theatre, you must have an AV receiver. Receivers from Denon are getting popular day by day. I know you also have one. That's why you have landed here.
Like you, I have seen many users facing problems with their Denon AVR. Sometimes the Denon receiver is not turning on with TV at all.
Sometimes the Denon receiver keeps losing HDMI signal. That's why I have come up with this blog. Here, I will discuss five problems that a Denon AVR user faces. Also, I will explain their reasons and reveal how to troubleshoot them. So, keep reading!
6 Denon Receiver Problems You Should Troubleshoot
An AVR (audio video receiver) do the job of receiving audio-video signals from different sources, processing them, and delivering them to speakers and monitor.
So, when I say receiver failure, it means the AVR is not working at all, or there is no picture/audio delivered. Besides, lost/weak signal and low amplification can also be referred to as receiver failure.
However, different AVR can have different designs and functionalities. Here, I am just talking about Denon receivers. Let's talk about 6 types of Denon receiver failure and their possible reasons to occur.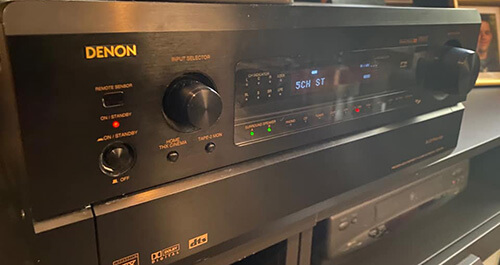 1. No power:
Sometimes, the AVR doesn't turn on, or there is no activity at all. It happens simply because of loose power cable connections. But sometimes the current passes through the AVR, power lights turned on but the display shut down or flash.
It happens because of the built-in safety system. When an AVR receives an audio/video signal, it is initialized by a microprocessor. Sometimes, the microprocessor confuses the signal with the power signal. Thus, the safety circuit gets activated, and a shutdown occurs.
2. Overheating:
Heating is not an issue for AVR. But overheating can be a problem. However, Denon receiver overheating problems occur because of faulty components or lack of ventilation.
But here, the problem is that overheating activates the safety circuit to protect the AVR parts. Thus, the receiver often shuts down. Moreover, it can damage power cables or other components.
3. No picture:
If there is no picture delivered by the Denon receiver, there may have connection issues. For example, if the HDMI cable is not connected well, there is will no video on the monitor.
The same problem occurs when the cable is too long. A long HDMI cable causes slow processing or synchronization problems. Thus, the AVR fails to provide video output. 
Anyway, no picture can also occur due to signal conflict. If your AVR receives analog video input, it fails to process the signal. It happens when you are using a modern monitor with an HDMI cable. Otherwise, your Denon receiver may not support analog signals and fail to process them.
4. Audio error:
Like the no picture problem, no audio happens due to a connection problem. It can be a loose connection on HDMI, USB, or RCA cable. Sometimes, the problem arises when plugging the RCA cables with the wrong combination.
If you use a DVD player, no audio can be caused by a bad connection between the DVD and AVR. Besides, the audio setting itself can cause you no audio if you have selected the wrong audio output option.
5. Signal loss:
Unlike the audio/video problem, signal loss is not associated with the connections. Most of us think it is caused by loose connections, but it doesn't.
Mainly, signal loss occurs when the HDMI cable is not compatible with the output quality. For example, play 4K videos on the monitor. A low-end coax cable won't deliver the signal properly. Thus, frequent signal loss happens.
However, this problem can also appear when your components are not up-to-date. If you use a very old Denon receiver model, it won't process high-definition content.
It happens because the firmware is not compatible with the signal the AVR receive or the component you use.
6. Settings & control:
The above problems and other associated problems often appear due to the wrong settings. For example, suppose you want surrounding sound while playing the home theatre.
You have the setup and speakers for it. But it won't activate until you turn it on from the audio setting. Thus, a fake AVR failure appears.
But, it doesn't happen because of the AVR. It's a human error that causes this kind of failure.
However, the setting is controlled by a remote. If the remote gets corrupted, you can't achieve the expected settings or output. Thus, an AVR can fail.
A Quick Fix for Denon Receiver Failure
Now you know the six reasons why a Denon receiver fails. You can see most of the failures appear because of some common problem. Connection issue is one of them. Whereas some basic setups can solve most of the problems. So, I have come up with a quick fix. Follow the below steps before troubleshooting your Denon receiver.
Unplug-plug: It is more applicable for a brand new Denon receiver. While setting up the AVR for the first time, you can make mistakes. So, it's good to unplug-plug the jacks again if you face any problem. Also, check if you have plugged them with correct combinations and in the right direction. Follow the user manual if it seems difficult to understand.
Factory reset: Factory reset means the AVR will be set to its initial settings. In other words, your AVR's firmware will be like a brand new one after applying a factory reset. Slow initialization, power problem, and synchronization can get eliminated by it. So, it's suitable for an old Denon receiver.
However, resetting a Denon receiver is quite simple. What you have to do is to unplug the power cable. Then press and hold the "Stereo'' and "Direct" buttons together and release them after the display flash. Thus, the AVR will reset to its initial settings.
6 Denon Receiver Troubleshooting Tips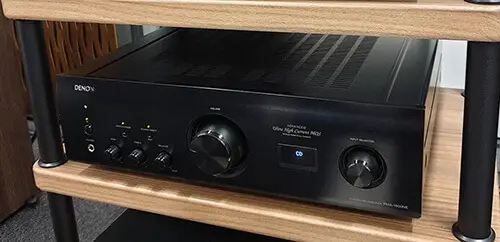 After the quick fix, some problems should be solved. If your Denon receiver still has issues, you have to identify them. Then, follow the below tips to troubleshoot the corresponding problem.
Tip-1: Good connections for no power failure
In 80% of cases, power problems get fixed after resetting the AVR or replugging the cables. However, these procedures are described previously in the quick fix section. I hope you have already read it. If there are still power failures, follow the below tips.
Replace the cable: Sometimes, the AVR turns off automatically if the power cable is corrupted or damaged inside. In this case, the safety circuit turns off the AVR within 5 seconds after you turn it on. So, it's better to replace the power cable, or you may damage the AVR itself. So get a Power Cable for Denon AVR and swap the old one.
Turn the "auto-standby" Off: A Denon receiver also gets turned off automatically due to a specific time of inactivity (generally 10 minutes). So, keep the ''auto-standby'' mode "Off" to avoid auto shutdowns. However, you will find the option on the "settings" menu.
Tip-2: Ensure ventilation to avoid overheating
Overheating can lead your Denon receiver to power cuts. Also, it's a threat for your setup to be damaged. However, activating the "ECO" can reduce heat production. Besides, the below tips can help you to avoid overheating.
Ensure enough ventilation:. Ventilation is a must to avoid unwanted power cuts or protect AVR components. For proper ventilation, you should set the Denon receiver in such a way that air can pass through it easily. Besides, leave the AVR for 30 minutes to cool down immediately after getting shut down for overheating.
Replace faulty components: Overheating can damage components. In a reverse way, defective components can cause overheating. So you must keep them away from the AVR. Whether it is a cable, a source, or an output channel, just throw them away.
Tip-3: Use the suitable cable to see the picture
You have learned that videos won't be delivered because of cable compatibility issues. So, no picture problem gets fixed most of the time after getting the correct cable type.
But in a few Denon receiver models, composite components are not supported. In this case, replacing the cable can't be a solution.
However, jump into the FAQ sections to know the model names that support composite components. Meanwhile, I will explain what the correct type of cable is.
Get the correct cable type: If you own old school type of TV, monitor, or component, HDMI often won't work for you. Instead, you can get an F-type Coaxial Cable. It's compatible with composite components and adequate to process analog video signals.
Few more things to consider: While installing the cable, you have a few more things to consider. One thing is the connector type. Most of the coax cables come with F-type connectors. If your TV and AVR both have F-type jacks, it's great. Otherwise, get a pair of suitable connectors.
Another thing that you have to consider is the cable length. Too long cables often cause no picture output. So, get a cable that is under 13 meters long.
Tip-4: Enjoy clear audio with minor adjustment
Unlike other problems, audio errors need less effort to troubleshoot. You can enjoy crystal clear audio with some minor adjustments.
Replugging is one of these minor adjustments explained in the quick fix. Others are described below. Let's check them out.
Audio settings: Sometimes, the audio is shown delivering, but you can't hear the sound. It happens when you select the wrong audio output channel. So, you must choose the right output channel to enjoy audio. Besides, turn the surrounding sound "ON." if you want to enjoy it with your speakers.
Swap the audio jack: Check the audio jacks if there are still audio errors after a quick fix or audio setting. Get a new RCA Cable if it is damaged or not working. However, be careful while installing it. Plug it in the correct combination.
Tip-5: Signal won't lose with correct setup
If your Denon receiver keeps losing the HDMI signal, your setup is not okay. I previously explained that it happens when there is a compatibility issue. The issue can be between the input source and output channel.
Besides, the video cable itself can be an issue. If your output channel is the reason for signal loss, get a monitor or TV that supports high-quality content. Otherwise, follow the below tips to troubleshoot other issues.
Use HDMI cable: Do you own a 4K smart TV and an AVR that receives digital HD signal? Then why do you use analog coax cable? Get a good quality HDMI Cable for Denon AVR and enjoy HD content without losing signals.
Be up-to-date: Even after getting the correct setup, the signal can lose. In this case, you have to update the AVR firmware. For that, go to the setting menu and click "check for firmware update." However, you must have a good internet connection while updating the firmware.
Tip-6: Control is in your hand
You already should have understood that many of the Denon receiver failures can be troubleshot by changing the settings. You may think it's difficult to do, but it isn't.
For convenience, you will get a remote control. By this, you can manage and control all the components. Anyway, here are two tips regarding remote control.
Change the battery: Batteries get exhausted inside the remote control after a few months of use. So, don't get angry with the remote or slap it when it's not working well. Instead, give a new pair of batties to it. Thus, you can get the expected performance from the remote control.
Utilize your remote: Don't get panicked after detecting an AVR failure. Instead, check the setting and change it if necessary. Thus, the receiver may get fixed. I already have proven it.
Frequently Asked Question
Which Denon receiver model(s) support composite components?
Some Denon receiver model offers video conversion features. These models support composite components and can process analog signals. However, the model list is a bit long. So, I won't mention them here. Just remember the models that offer a video conversion feature support composite components.
Can a receiver convert composite to HDMI?
Yes! Some models of AV receivers can convert composite to HDMI. If your AVR doesn't have the conversion feature, you can get a Composite to HDMI Converter. Thus, you can get composite input into a better output.
Conclusion
Denon is a reputed brand for manufacturing high-quality AVR for TV or home theatre. Its modern design, power, and multiple functionalities make it unbeatable in the market. But the best even have flaws. That's why you are here.
However, the AVR itself can create problems, or you can fail to set it correctly. Whatever it is, you must troubleshoot the problem.
It's a must if you don't want to miss your favorite TV shows. I hope this post has helped you understand the issues and troubleshoot them. Do it yourself or take from professionals.
I hope you keep enjoying your favorite TV shows or music.
Cheers!