"As an Amazon Associate, I earn from qualifying purchases. Without Any Extra Cost to You!"
As there is hesitation among the customers between very reputed two models, the Wilson 1000 and Wilson 5000 CB Antenna, you should know which model is suitable for you.
Let's start the discussion on the difference between Wilson 1000 vs 5000.  
If you want to use a CB radio, then using a CB Antenna is a must. There are several models where you can pick a CB Antenna.
However, it is a major concern for most CB radio users to choose an antenna.
In fact, the antennas keep huge importance in communication with other CB radio users that secure your safety.  
In order to make a worthy purchase, a CB radio user is always concerned that which model he should use. Fortunately, the Wilson company comes with several models of CB Antenna.
But, there is a conflict between very reputed two models of Wilson CB Antenna. The following two items are Wilson 1000 and Wilson 5000 respectively.  
Let me introduce the Wilson 1000 roof mount CB antenna first.
If you would like to get a high-quality semi-permanent two-way radio antenna, here's the item right on!
This model from Wilson has been popular among users for its high durability.
Indeed, the Wilson 1000 is one of the most excellent and long-lasting CB or 10-meter antennas in this world.  
Similarly, Wilson 5000 is another top-performing CB antenna. The antenna comes with an exclusive low loss coil providing extraordinary performance qualities.  
There is always a debate between Wilson's two antennas that which one works powerfully for an easy installation. 
Wilson 1000 vs 5000 Comparison in their Features: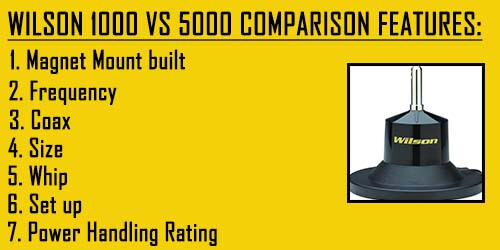 Magnet Mount built: 
Both of the models of Wilson include hard mount versions. In fact, the two-year magnet mount models are very useful and popular among users. This feature enables you to use the perfect antenna without making any drilling in your vehicle. 
Both of the CB antennae come with a medium-sized base having a large magnet built into it.  
Frequency: 
Both Wilson 1000 magnet mount antenna and Wilson 5000 work with a frequency of 26-30 MHz (CB Radio).
Coax:
The Wilson 1000 CB antenna comes with 17 feet of RG8X coax along with a soldered PL259 connector. Here the additional PL259 is added for enabling you smoothest installation of the antenna. The Wilson 5000 also includes a Coax of 17ft in length.  
Size:
The Wilson 5000 has more than 65% larger in size than the Wilson 1000. This model (Wilson 5000) is specially designed for users who love to get high ability and power in their CB antenna.   
Whip:
Some users prefer an 8-foot fiberglass whip to an 8-foot stainless steel whip. Plus, they love to use a coil antenna for its better reception. The Wilson 5000 offers a whip with 62 in Stainless Steel.  
Set up: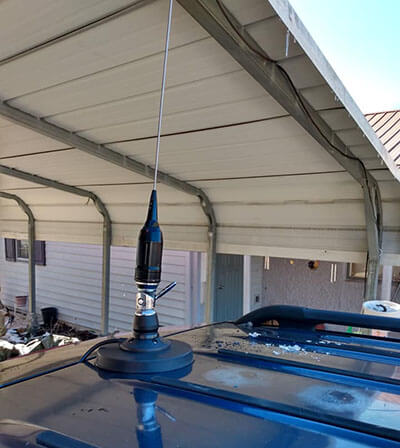 The most important thing about these two models is their easy setup and installation. You can put them very well and their magnetic base is very strong to keep the CB antenna to any vehicle with a metal body.
Just by slapping the antenna on the roof of your car and routing the coax to the radio and plugging it, you are ready to listen to the radio right on.  
Performance:
To give a pen picture of these two antennas' performance, it can easily be said that both have amazing gain and great transmit properties. Pairing with President HR2510 radio, the Wilson 1000 comes with a strong base station.
One can easily make many DX contacts as well as connect with locals without any hassle. Another important thing about Wilson 1000 is its static level. The static level of this model is quite less than the 102" SS whip. 
Power Handling Rating: 
When you are considering power, the Wilson 5000 can be a handy pick for you than the Wilson 1000. Although both the Wilson 1000 and Wilson 5000 have the same basic design, the Wilson 5000 comes with a 6 gauge coil.
Whereas, the Wilson 1000 offers a 10 gauge coil. There's more power handling (5,000 watts AM) in Wilson 5000 as well. 
Compatibility:
The Wilson 1000 works with CB and 10-meter radios. Plus, it can receive N.O.A.A. weather channels sharply. And the Wilson 5000 magnet mount needs minimal or no tuning for an SWR reading less than 1.  
Things to concern:
There are a few things you have to keep in mind while buying these two CB antennas. It is that both the magnets are quite strong. So, if your vehicle has a clear coat, then it may take some extra force while removing the antenna.
Besides, if one keeps around the antenna in the same place on your car for 10 years, then there will be a very strange round circle spot after removing it. In order to prevent such an occurrence, you can take some precautions. 
Precaution: While using a CB antenna, you should move it around 1-2" inches every month as there's no undue wear happen on any one spot on your vehicle. 
Thus, both the Wilson 1000 and Wilson 5000 antennas support an extraordinary performance with an easy to mount package.  
You may read also BaoFeng or yaesu
Advantages of the Wilson 1000 Magnet Mount CB Antenna: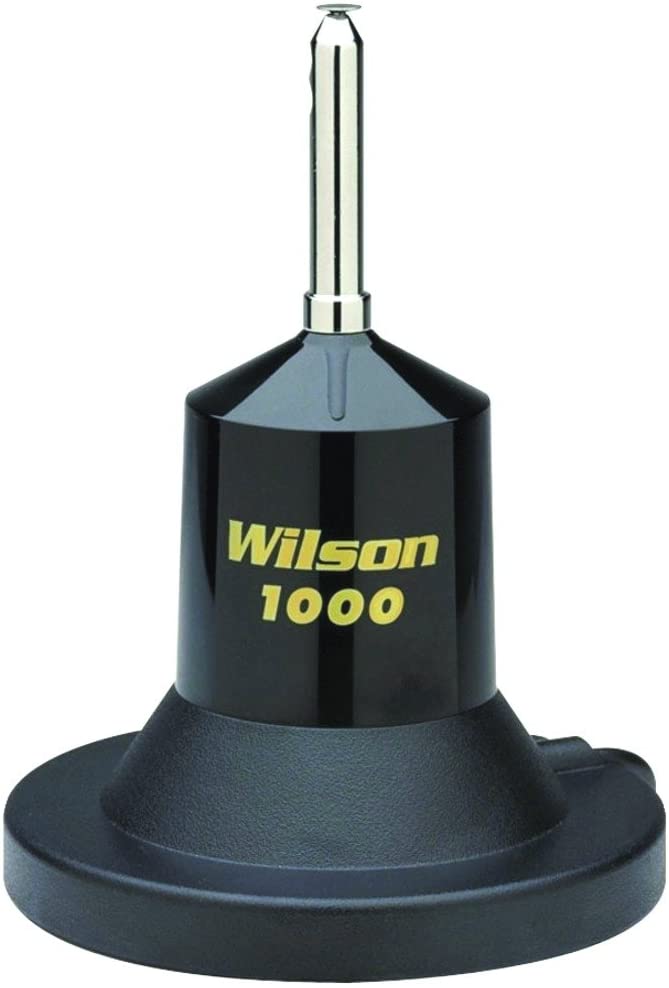 High gain performance (Tested in Lockheed Corporation Antenna Test Laboratory. Their result shows that the Wilson 1000 offers 58% more power gain than K40) 
Capable of handling 3000 Watt power. 
Having a frequency range of  26 MHz to 30 Mhz. 
Built-in high impact Mobay Thermoplastic. 
10 gauge silver-plated coil winding available.  
Exclusive low loss coil design
Removable coil available that offers safe storage and garage entrance. 
N.O.A.A Weather-Ready and protective weather Cap available.  
One Year Warranty 
Some Drawbacks of Wilson 1000 Magnet Mount CB Antenna: 
Less power handling than the Wilson 5000. 
Not suitable for larger radios. 
Advantages of the Wilson 5000 CB Antenna :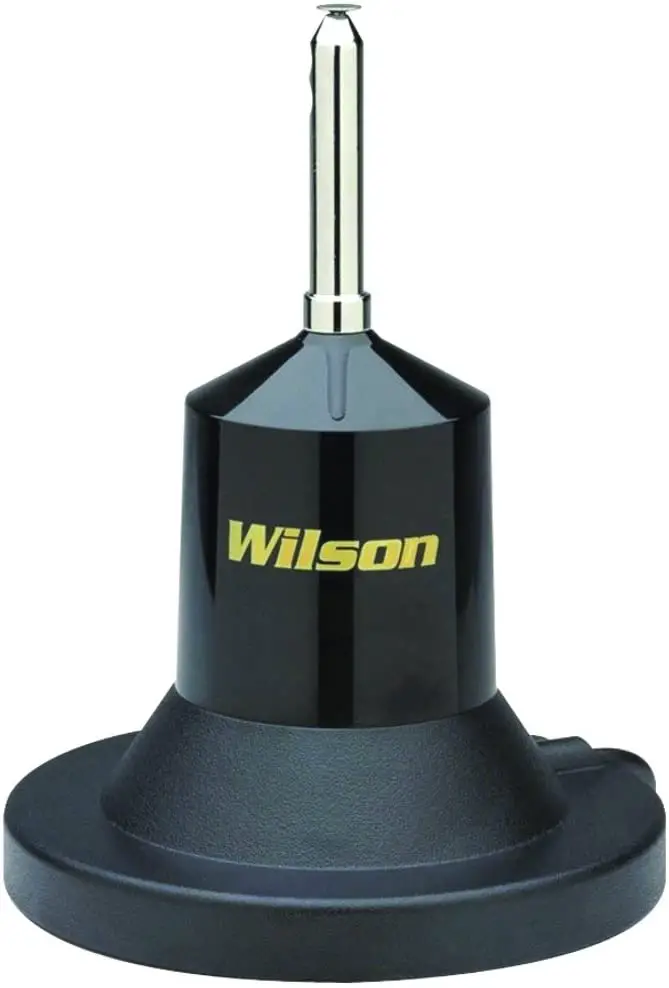 High-performance magnetic CB antenna with 5000 Watt power rating.  
This model needs minimum tuning or no tuning for an SWR reading less than 1. 
Perfect antenna for bigger radio. 
Very easy to install. 
The peak can reach a long distance.  
Highly durable design including a whip. 
Most Excellent CB antenna for use in extremely rough weather. 
Weather channel ready. 
Some Drawbacks of Wilson 5000 Magnet Mount CB Antenna: 
Expensive  
Suits only for larger CB radios. 
Some antennas of this model doesn't come with the whip. 
You may be interested in ft-991 vs ft-991a
Let's Wrap Up!
Both of these items are highly capable CB antennas. To compare with Wilson 1000 vs 5000, there are some factors where you can keep a sharp look and see which one is best for your particular requirement.  
If you need an antenna for bigger radio, then I'd prefer Wilson 5000. On the other hand, while you have a small CB radio, or have a budget issue, then the Wilson 1000 is a better choice for you.  
Overall, I'll declare the Wilson 5000 CB Antenna as champion.  
Now, the ball is in your court. Choose your one!  
Now I want to hear from you, which one you will pick for you? Leave a comment