"As an Amazon Associate, I earn from qualifying purchases. Without Any Extra Cost to You!"
If your Denon receiver audio is consistently cutting out and you are searching for an easy solution, this article is for you.  
Denon Receiver is a great tool that enhances your home entertainment experience. But nothing is more annoying if an entertainment piece produces a cutting sound. 
Then, you must have tried to solve the issue of Denon Receiver sound cutting out. Nothing is going to work at all?
No matter what the problem is, there is an easy way to fix the Denon Receiver sound cuts-out problem. Let's know how to solve it. 
Table of Contents: 
Symptoms of Denon Receiver Sound Cutting Out 
Then, how do you find your Denon receiver has issues? These are some common symptoms as follows:
There is no way to find standard audio surround choices – In the selector, only stereo ones appear.
There is no tone on A/V input, HDMI, or analog.
The choice to customize the audio is absent from the setup menus.
A scratching sound that repeats itself
The receiver face displays "H/P Input On" regularly.
Find here the solution of projector keeps cutting out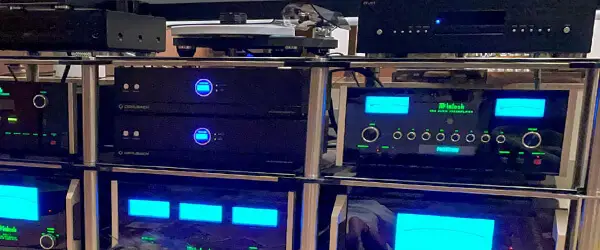 Why Denon Receiver Sound Cuts Out & Ways to Fix?
There are 3 major reasons why your Denon receiver sound starts cutting out. These are as follows:
Power Issues 
Faulty Audio Connections
Settings and Controls Problems
1. Power Issues
Denon receivers include a microprocessor. The microprocessor works with the audio and video settings once the receiver is on. However, the microprocessor may cause your receiver to shut off. 
How to Solve Power Issues?
You can easily solve it by unplugging the Denon receiver from the power connection. After that, you have to click and hold the "DIRECT" and "STEREO" options at the time of connecting the power cable again. 
Now, wait until the flash comes on to release the "DIRECT" and "STEREO" buttons. 
However, if you find different types of power issues, then you must ensure a secured connection to the device.  At the same time, the remote control batteries should also be checked and replaced if needed.
You may read also Denon receiver for definitive technology speakers
2. Denon receiver Sound cuts out when using a Wi-Fi connection- Audio Connection Issues
Check to see if your internet service is working properly. If you share your network with other people or computers, they may be hogging most of your bandwidth. This is particularly true if they're streaming video.
Avoid placing the HEOS machine near other electronic devices that can conflict with its wireless networking.
Microwave ovens, cordless machines, televisions, and so on… Make sure the HEOS device is within the wireless network range.
If it isn't, a wireless extender like the HEOS Extend could be needed.
Microwave ovens, cordless telephones, portable game controls, and other wireless LAN gadgets all use the same frequency band as the wireless LAN. Due to electronic interference, using such devices while using this unit can cause sound to cut out. 
#Easy Fixes: 
Disconnecting all interference-causing devices away from the machines creates damage from the power supply.
Modify the router channel to which this device is connected in settings. (How to adjust the channel is detailed in the wireless router's instruction manual.) – Use a wired LAN link instead of a wireless one.
3. Setting & Control Problems: How Do I Fix My Denon Receiver?
Step 1: The letters H/P stand for "Headphones." Dust affects the Headphone port, causing a false auto-detection that headphones are plugged in.
So, keep your receiver away from dust.
Step 2: The short/detection shooting on/off noise is the flipping noise. To repair it, blast through the headphone jack strongly to clear the dust or you can plug in headphones and remove them.
Step 3: After fiddling with cables, configurations, and any button on the remote, a quick puff of air solved the problem.
If these steps are done properly, we hope you can solve your problem. 
Final Words 
Hopefully, your Denon receiver is going to be free from sound problems. Follow our article and be confident to work with it on your own. If you need any tools, then buy these from Amazon. 
Best wishes.