"As an Amazon Associate, I earn from qualifying purchases. Without Any Extra Cost to You!"
Projector keeps cutting out is not an uncommon problem at all. Often for the power cord issue or some other cases, you'd find your projector losing its connection.  
There might be a lot of reasons why your projector keeps cutting out. Projectors have a built-in system of led support which may also be helpful during troubleshooting.
If the LED is flashing or blinking it might indicate that there is some grievance with your projector.
So, you have to find exactly where the problem is and you will be able to solve your problem by following our guide.
After finishing the article, you will come to know the causes and easy fixes of your projector issue. 
Let's get started guys.
8 Major reasons do my projector keep cutting out by itself
There are several reasons behind a projector cutting out the issue. We will now explain 8 main reasons why your projector keeps shutting down by itself.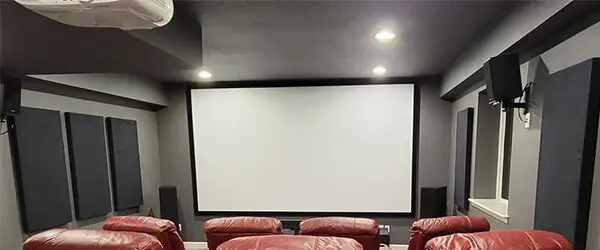 1. Overheating Issue
If the power light is red; it probably means that the system is overheated which may cause automatic turn off.
It may also happen due to a filter warning. This appears when the filter is clogged either with dust or air fillers. The sensor will detect the problem which leads to premature shut down of the projector.
#Easy Fixes:
The air filter must be cleaned or replaced otherwise the projector may not work.
Note: The projector should not be placed at an angle.
Check the Air Filter from Amazon.
2. Poor Connection
If your screen is unclear or not visible, then you must ensure that your projector has been connected properly with the device or system.
#Easy Fixes:
If you are using a laptop make sure that it has been connected properly to all the ports. If you are using HDMI, do not forget to turn on the HDMI mode.
If you are using a computer then go to windows on your keyboard and press P along with it. This might help you fetch the screen.
If you are finding a speaker for the projector then check the guide Bluetooth speakers for the projector
Click the duplicate option; it will help you move to the screen of your computer. If you want to extend the screen then click on the 'extend' button. In case you want to further enhance the picture quality you may add an AV receiver. 
If you want to buy an AV receiver, then check our commended AV receiver from Amazon. 
Sony-STRDH590-Multi-Channel-Receiver 
3. Issues with the lamp
If the LED light keeps continuously blinking it means that the lamp is exhausted.
Every product has a limit to the usage of the lamp which is in the range from 1500-2000 hrs. If you exceed your limit a notification pops up to warn you.
#Easy Fixes:
No need to get panicked at all. Just need to contact a technician and get your lamp replaced.
Please ensure that you buy the lamp best suited for your model.
Check Amazon and find which lamp suits your model. 
4. Power Supply
If there is an automatic shutdown of the projector, you might want to check your connection with the outlet. 
#Easy Fixes:
Make sure that the connection is proper and not irregular. Then, check the sensors.
You may be interested in outlet low voltage
5. Lamp status
If the life of your lamp is about to end then, the sensor for LAMP REPLACE will automatically light up.
#Easy Fixes:
You have to replace the lamp with the correct model. Then it should work just fine.
Some of the best lamp projectors from Amazon are:
LOUTOC-BL-FP190E-SP-8VH01GC01-Projector-GT1080darbee 
Uton-V13H010L89-Projector-Replacement-EH-TW7300
6. Temperature Protection
These are built-in sensors that help to detect any abnormality in the temperature.
When the temperature rises the STATUS indicator starts to blink. 
#Easy Fixes:
To resolve this issue, follow the instructions regarding troubleshooting laid down in your manual.
7. Filter Warning
This detects any blockage or clogging in the air filters. You may need to replace your filters with new ones or clean them.
#Easy Fixes:
Reset the scroll counter and filter after replacing the air filter container otherwise, the LED may keep blinking.
Check whether this air filter container from Amazon suits your model or not. If it doesn't match, find alternative models from Amazon. 
8. Internal Failure
Internal failure may also be a reason for the immediate shutdown of your projector. These failures are usually represented by either a solid or a flashing LED light.
#Easy Fixes:
You should restart the gadget by first disconnecting and then reconnecting the power cord.
You must further ensure that all the cords are proper and functioning. If any of the cords are not a good condition you must immediately replace them.
There might also be a possibility of the button being locked for security reasons. Just use the remote or unlock the buttons for the projector to work.
You can also try switching off the projector for a while. This may help in temperature control and switch it on when your gadget cools down.
Final Words
Hopefully, your projector is going to be diagnosed properly and fixed. Follow the instructions given in the article and find the respective products from Amazon. that you will need to do the fix. 
If any of these don't seem to work for you, you may want to consult your technician or take assistance from the company's helpline services.