"As an Amazon Associate, I earn from qualifying purchases. Without Any Extra Cost to You!"
If you have recently started using many devices or you've got a home theater system, then you might feel overwhelmed with all the plugging options behind you. The novice will be somewhat confused and agitated about how to connect your TV with the receiver. You could be wanting audio and video altogether, but you are getting only one.
I have had a friend who used his TV without sound for around a month, thinking that his receiver needed some work done. You might suffer the same issue, but your devices are probably just fine.
So, to give you clarity, I am here to provide you with insights on how to connect the TV to the receiver with HDMI, along with some other details which will help you further regarding receivers. 
Which device are we talking about?
For your understanding, I will briefly go through all the devices that work as a receiver. You could have an array of devices, or you could be using one device as a receiver and another device that you will require to connect with your TV.
I will also tell you if you will need one HDMI or two based on the devices. So, lets us go through them. 
AV Reciever 
An audio/video receiver is a type of amplifier device that is more than an amplifier device. You will most likely get a big dark box that you will need to run your home theater system on your TV. It does not let you transfer audio signals, but it also manages video signals.
Unlike the audio amplifier, it has multiple channels for audio and video output that can go up to 10, 11, or 12 channels. If you have a surround sound setup with a bunch of speakers around then chances are you own an AV receiver.
An AV receiver can vary depending on your budget but there's one for almost everyone.
Gaming Console
If you are an avid gamer, then I really don't need to explain much about it. A gaming console is a type of device where we connect it to the TV or monitor where it displays video and audio that we get to experience in accordance with how we want through a gaming controller.
We are clearly aware of the two most famous consoles around. The PlayStation and the Xbox, to connect those onto our pc, we will be requiring an audio amplifier or av receiver with an HDMI to the Tv based on the devices we are using. 
Set-top Box
This should obviously be known by the television viewers that your issue could be coming from the connection of the set-top box. A set-top box is a device that lets the video show digitally broadcasted media through a satellite with the help of the device.
Similar to the gaming console, for a complete experience from your speakers or surround system, you require to connect it to the receivers in proper accordance, which I'll show as we talk more. If you live in the states, you can't think of a set-top box without Apple TV. 
Audio Amplifier 
An amplifier is one of the receivers that lets you control the sound for your TV to play. You require amplifiers to power your speakers or any other devices.
If you seek to go or have a typical setup with that box and two channels of speakers, then an audio amplifier is what you should purchase or own respectively.
An audio amplifier is similar looking to an AV receiver but with fewer specifications. Audio amplifiers differ in many price ranges and there's one for everyone. 
Which HDMI cable are we talking about?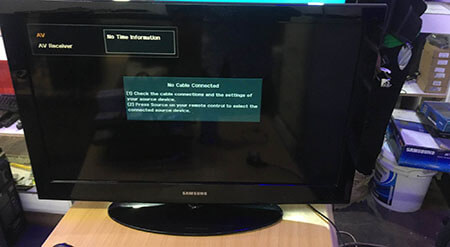 You need to have a clear idea of HDMI cables when connecting to your desired device. You could own a worn-off cable or a cable that has become quite old then it is rather necessary to get the latest HDMI cable based on the specification of your receiver and your TV.
You could have a 4k high refresh rate TV, but your HDMI cable can merely push up to 1080p 30 fps non-hdr. 
I won't bore you with the versions you need to check and buy before getting the latest one but instead, tell you just buy a specific one that is the absolute best in terms of everything and will be a long-term investment. 
So, first things first are to get a cable that has ARC (Audio Return Channel), which will enable you to get both audio and video signals from the same cable. Now there's an upgrade to ARC which is known as Enhanced Audio Return Channel (eARC), which is far superior in terms of richness in the audio quality. Bear in mind that before HDMI 1.4, the cables did not have ARC. So, you may require to get two cables for two cables in case if you want to use that. 
Then, to get to know the specs of your TV, you could be using a 4k HDR 120 Hz TV then you need to check the maximum bandwidth and specifications related to the resolution. For a 4k, I would suggest you get one that is future-proof, like the cable, which supports up to 8k 60hz HDR10+ as well as compatible with multiple devices. If it seems pricey to you, then, of course, you can get HDMI cables specific to your needs. 
How to connect TV to Reciever with HDMI?
Now as we are fully enlightened about all the devices and which HDMI cables to pick. Let us dive into How to connect TV to Reciever with an HDMI cable. It is a simple process, so after telling you once then you should grasp it quite easily.
Connection to the TV if you need to connect your console or set-top box to the receiver to the TV
So, let's say you have a console, to connect it to your TV from your receiver you are required two HDMI cables. I hope you have the correct HDMI cables.
First, attach your power plug to the console.
Then, attach the HDMI out port of the console to the HDMI In the port of the receiver since it's a console, so it is better to connect it to the HDMI In port labeled "Game" for your clarity. 
Now, grab another HDMI cable and attach it to the receiver's HDMI out port.
After attaching it to the receiver's out port then plug it into your TV. Then, to the HDMI In the port of your TV. Attach it to the corresponding label. After that, you will be able to connect your PS4 to your TV through a receiver. 
Connection to a TV to AVR surround sound Receiver with one HDMI cable (ARC)
This is the far more productive approach as it will require only one cable to use your surround sound system. For this, you will need a high-speed HDMI cable that can transmit both the audio and video signals from your receiver to your TV.
Get your high-speed HDMI cable, preferably an HDMI 2.1 cable, look for the HDMI Out port in the receiver, and connect the HDMI cable on to it. 
You must check if the ports have been mentioned or labeled as ARC. You may attach it to the wrong out port. If you have connected it to the out port which isn't labeled ARC, pull it out.
Now, go to your TV and look for the HDMI in port labeled ARC as well. Connect it, and you should be good to go to have an awesome surround sound experience. 
What can you do as an alternative if HDMI isn't working? 
You probably won't be needing this, but if you do, then you are better off connecting your TV with an RCA cable or Digital Output connection. These cables will ensure your audio to your surround system, and for the video signal, you will require an HDMI cable. 
Frequently Asked Questions
What does ARC mean in HDMI and other devices? 
ARC stands for Audio Return Channel which is a feature of HDMI Cables. In short, if I had to tell you then, with an ARC HDMI cable, the process is simplified as the single cable will allow you to transmit both audio and video signals on your TV. Enhanced ARC is an upgrade of ARC. 
Is it necessary to use the latest HDMI cable? 
As I have mentioned before, it is an absolute necessity because your cable could support 10.2 Gbps that merely lets you play 1080p resolution, but you have an 8k TV. So, clearly, your HDMI cable is incompetent to play 8k resolution. For that reason, you need the latest and the most future cables.
What do HDMI input and output mean? 
Based on my understanding, you connect your Out port to the device you require to connect it to. So, if you want to connect your TV to the receiver, then you need to attach the receiver's out port and TV's in port. 
Can I plug in the HDMI cable (ARC) and RCA cables or any other cable at the same time? 
Yes, you can, and your concern might be that it can cause some errors or glitches while playing, but there's nothing to be worried about as you will get the option to choose over which cable you want your audio signals to be transmitted by. Evidently, it is rather foolish to use other cables when you have a good HDMI around. 
Conclusion 
Thus, I hope you have gained enough knowledge in this not-so-technical issue. I genuinely enjoyed explaining all the details to you about the cables and how to connect them based on the devices you own. My concern would be if you have enjoyed my insights and have gotten help or not.
I have tried to simplify all the steps in such a way that anyone, even those who are entirely ill knowledged about cables and these devices, would comprehend this issue.
The next you face or see someone struggling with how to connect the tv to the receiver to HDMI, you surely will be flexible in assisting yourself and those who are struggling. 
Everyone deserves a wonderful TV experience just like you do!