"As an Amazon Associate, I earn from qualifying purchases. Without Any Extra Cost to You!"
A weather station is trendy among those who use it for their occupation or professions like farmers and weather enthusiasts.
These are those for whom having the right knowledge about the weather condition is a priority as it affects their daily life. Instead of relying upon any secondary data source, they become their primary data source by owning a weather station. 
But imagine the system is not connecting properly with your home wifi network. As a result, you will not be getting the right weather report. Of course, you can use your mobile application, but what do you think? Does it show the result as appropriate as a Lacrosse Weather Station?  
If your weather station is acting weird or not connecting accordingly, the first thing you should do is, do not panic or get frustrated.
Most of the time weather stations run out of batteries or have a problem with the wifi connection itself. We are trying to say that having a connection problem with the weather station is very uncommon, and the solution for this might be way more comfortable.
Let's get started;
Fixing Lacrosse Weather Station Connection
Most of the time, the problems with electronic components are not very serious. Simple malfunctioning or connectivity problems or even power surges are the reasons behind this. 
Within the article, we will explain some straightforward solution steps. We have tried to keep it as simple as possible so that you can solve it by yourself.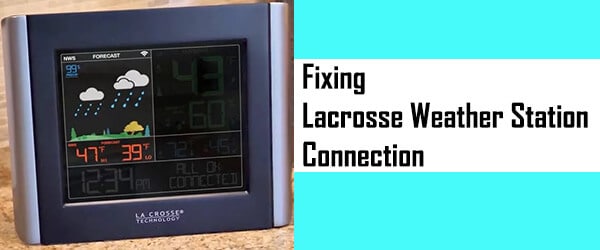 Without any further due, let's get it on with the steps.
1. Re-starting and Resetting 
Most of the time weather stations get hanged after using it for a long time. With electronic devices, it is ubiquitous. Now, re-starting a machine to fix any connectivity problem is also like a digital superstition. But sometimes, restarting works just fine.
Yet, sometimes, you may need to reset your device. If you are facing problems with your station to connect with the internet, try power-cycling the device to reset the time:
Remove and disconnect batteries. To retrieve any spurring current, click the LIGHT button five times. The display requires the link to be restored after the device has been powered. 
It'll take a few minutes. You will see the wireless symbol from being blink-toned to secure NWS/NIST networks during this time. DST should be appropriately revised. After the time is shown, reinstall the battery.
You may read also bose radio display not working
2. Faulty wifi chips
Most weather stations of LaCrosse have pretty bad wireless chips. 2GHz is just a real pain because both 2GHz and 5GHz radios have been designed for most wi-fi routers with the same SSID. 
Either a dedicated 2GHz SSID is set up only for your IoT stories or the 5GHz radio is temporarily deactivated by joining a wireless weather station. You can re-activate the 5GHz once entered.
3. Switched off Router connection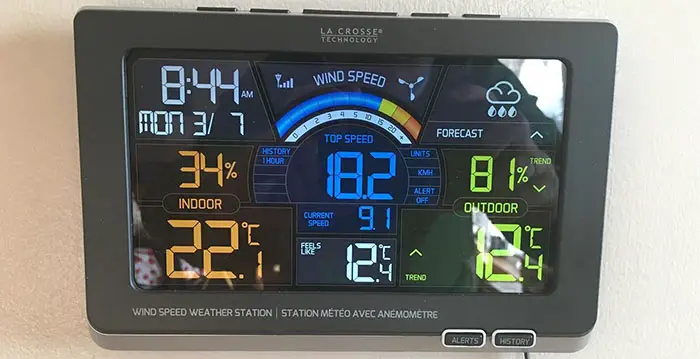 Consider checking your wifi router real quick. Most of the time, due to many reasons, we switch off our router. And as usual, we forget to turn it on. 
But, if it was switched off, how are reading this article right now? Well, the problem can be with the weather station's display which is not getting the connection. On the back of your screen, find the Wi-Fi button. Press it for a while. You can listen to a beep and use the Wi-Fi indicator to flash in SoftAP mode.
4. Unable to connect with any device
When you connect a device, a device image and device ID are displayed on the Confirm Device tab. If the incorrect device image and device ID appear to prevent you from attaching your device, you might have an unsubscribed device ID. It gives you the chance to re-enter the system ID manually.
5. Changed Wi-Fi password
This problem could be the funniest of all. Due to any reason, someone may have changed the wifi password. And as we all know, devices that were connected previously will be removed.
If any method mentioned above does not work, consider checking the wifi password if it was changed or not.
Some important FAQs About lacrosse weather station won't connect
We hope you may have questions after the above discussion. We have tried to comer some questions that are commonly and frequently asked. Check them out. Forecasts out predictions battery's diagram—forecasts Forecasts out any help. 
How does the weather forecast help us?
Some use weather forecasts every day to decide what to wear on one specific day. As heavy rain, skiing, and wind chill are seriously restricting outdoor activities; forecasts can be used to schedule and survive these events.
How do I connect my weather station to WiFi?
If the wireless internet icon is off, press and hold the buttons Rain and Warn for 5 seconds at a time, and the wireless internet icon starts blinking. Start your smartphone or tablet Ambient Tool App and ensure that your phone is linked to a router.
How do I connect my weather station to WiFi?
If the wireless internet icon is off, press and hold the buttons Rain and Warn for 5 seconds at a time, and the wireless internet icon starts blinking. Start your smartphone or tablet Ambient Tool App and ensure that your phone is linked to a router.
How do you set a LaCrosse clock?
To trigger manual mode, press the SET button and hold it for 3+ seconds. Once the clock is in manual mode, two ways forward are available to shift the minute. Keep down the SET button to continuously move the minute's hand forward.
How to Reset the Time on a LaCrosse Weather Station?
Remove the Battery Cover and Machine Batteries, turn the LaCrosse Weather Station around. Tap one of the weather station buttons 20 times. 20 times. Following the battery's diagram, a powerful battery's chart, a door put the batteries back on the device. Hold on to the unit for five seconds and press the "Set" button.
Conclusion
Not getting the proper weather cast report can cause significant harm to the farmers who are very much dependent on the weather. Will it rain or not, will it be windy or just breeze is there a storm coming, similar to these many forecasts means a lot to the farmers. 
People living in the tropical area are also in need of a fair-weather report. So if your weather station is not working or connecting correctly, check the steps mentioned above to correct it. 
We hope this article will be of great help. Good Luck!!