"As an Amazon Associate, I earn from qualifying purchases. Without Any Extra Cost to You!"
If your sound system has crackling problems while you're driving, then there's a problem with the sound system. 
If there's no audio issue in the car stereo and the DVD player is playing without any sound, then the problem might be in your mark Levinson amplifier. 
In this case, you have to check whether there is any failure in your amplifier.  
Today, we will discuss the ways to fix the mark Levinson amplifier. At times, you may need to replace the mark Levinson amplifier sound system. 
Let's dig deeper into the article and know how to fix Mark Levinson amplifiers. 
Table of Contents:
What is a Mark Levinson sound system?
Mark Levinson produces audio amplifiers and digital audio processors that have a characteristic black anodized chassis, a design associated with the brand since the beginning. Harman also makes Mark Levinson audio systems an optional upgrade for Lexus luxury automobiles.
When do you need to fix Mark Levinson amplifiers?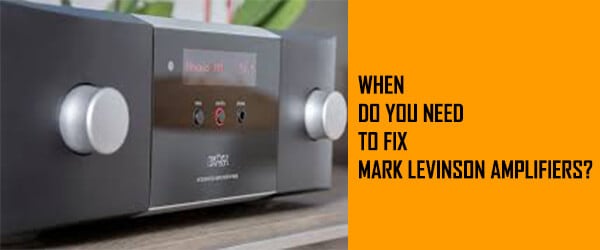 If you find your car stereo system is unable to produce audio from the speakers, then the issue is with the Mark Levinson amplifier. 
Firstly, you will get the symptom of amplifier failure that there is no audio from the speakers. Again, there will be no radio, no sound via Bluetooth, no Sirius XM, no voice supply from its navigation system.
Yet the DVD plays in this case, but the video will play with no sound. And as the door ajar beep has its speaker, it will work.  
So, you'll understand that you have to fix or replace the mark Levinson amplifier when these signs are found. 
You may read also svs subwoofer sb 1000 vs sb 2000
How To Replace Mark Levinson Amplifier?
If the Mark Levinson amplifier is no more repairable, then you have to go for a simple replacement. All you need to do is just replace the Mark Levinson amplifier in your car. Below we'll discuss the whole process.
The Mark Levinson amplifier is situated on the car floor under your driving seat. 
So, when you need to replace the amplifier, the wisest way to remove it is to unbolt the driving seat. Don't remove the driver's seat throughout, just lose it out. 
Then, follow the below steps:
Step 1:
Taking the seat off, you will find plastic covers on the backside of the driver's seat rails. Use a screwdriver under the plastic covers. There will be a rear seat hex head mounting 14 mm bolts. Now, remove the bolts and keep them to one side. 
Choose a screwdriver as you need from Amazon:
Screwdriver-Industrial-Strength-Klein-Tools
Magnetic-Precision-Screwdriver-Cellphone-Eyeglasses
Step 2:
Then, move your driver's seat towards the rear. There are the front mounting bolts. Open up their covers, and discard the 14 mm bolts.
Step 3:
Now, raise aloft the front side of your seat and bend your driving seat's back against the intermediate seat. Reveal the carpeting under your driver's seat. 
You may need a carpet knife to widen the face of the carpet. This way, the amplifier will open up to you. 
Step 4:
The amplifier is placed by two mounts. One mount is attached by two 10 millimeter hex bolts. Another mount on the left side is attached by a single 10 millimeter bolt.
Eliminate these three hex bolts and the amplifier. Then, peel off the 3 wire connectors.
Step 5:
You can remove the smaller cable connectors by a slight force to take them off. Then, to remove the center connector, you have to push it downward. And, the largest connector should be pivoted outward (30 degrees).
Step 6:
Next, knock off the amplifier and the two mounts of it. Now, keep your driving seat as it was before. Put in the 4-14 millimeter mounting bolts. And, keep the plastic covers off before your amplifier is fixed or replaced.  
Step 7:
Finally, replace the modified or new amplifier into place and install it properly. 
You might be interested in sb12-nsd vs sb-1000
Where should you go if you have a faulty car amplifier? 
There are many service providers available both online and offline. You may check the below sites that offer great service to the customers. 
https://www.ebcelectronics.com/mark-levinson-repair.php
https://paulisoncorpserv.com/basket/
How much does it cost to repair Mark Levinson amplifiers? 
Several online and offline repair service agencies will do this repair for you. 
If it is United Radio in New York ( Website link: unitedradio.com), they take $675 as the flat charge for the repair. 
In general, the flat charge of mark Levinson repair services ranges from $400 to $700. 
And, the regular price for the Mark Levinson amplifier is about $1,700. Plus, there will need something more than $2,000 for parts and labor. 
Let's wrap up! 
In the end, these are the ways you should undergo to fix your Mark Levinson amplifier. Hopefully, you can repair or replace it by yourself. Or, you may seek professional help. We have recommended repair service providers as well. 
At last, if you find issues while doing it yourself, then let us know about it in the comment box below.