"As an Amazon Associate, I earn from qualifying purchases. Without Any Extra Cost to You!"
Ever faced a 'no sound' problem in your Playstation 2? You get the perfect display but there's no audio coming from it?! 
If you are an old-school fellow like me, you might still have a fascination for your PS2 games. Playing with no sound is so distracting, I know that feeling. This article is all about discovering how to fix PlayStation 2 sound not working problem. Along with addressing the root problems, I would be talking about the possible solutions as well. 
6 Root Causes Of The PS 2 Audio Problems
Let's start with knowing the reasons why your PS2 displays no audio.
1. When you have a poor component cable: We often buy used or second-hand component cables and later discover that they are not compatible with the RGB cables of our input source. When the component cable fails to be compatible with the RGB cables, it displays no audio signals.
2. PS2 laser problem: Sometimes the laser could be the root cause of the audio not working. There are two lasers and they might stop working if old enough. In that case, you need to replace the lasers and try again.
3. Disc problem: Just like the laser, the discs of the PS2 may get old and left with scratches. As a result, the audio fails to work.
4. Unstable connections: In most cases, the only problem is unstable or lose connections. Often the cable wires get loose. Thereby you get an unstable connection due to which the audio stops working.
5. Manual options: There could be a slight change in the manual settings that you might need to fix. Go to Menu and check whether the Analog audio is on. A matter of fact is that PS2s have an optical Toslink plug. So you need to check whether it supports your media format.
6. A/V connection: The A/V connection port is usually at the back of the PS2. You need to inspect there because often the pins might break or damage during setup. Or they might get full of dirt. In that case, you need to clean it.
Here's A Quick-Fix For You
In most cases, this quick-fix works, and people call it a miracle! You should try this as well:
Get to the MENU and look for the Digital Output option. Turn it on.
Move to the back of the console and you will notice a cable. Pull the cable slightly.
The red light will start blinking. This is the audio light. That is the actual audio being transferred through a light.
Now plug in the optical cable and there you go! You would be receiving pitch-perfect sound just like that.
You may read also ps3 won't open
Solutions To Fix PlayStation 2 Sound Not Working Issue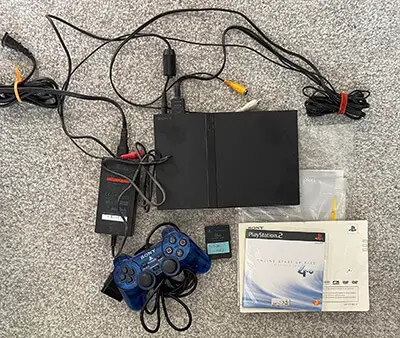 Here, I am going to direct you on how to get the best audio quality out of your PlayStation 2. Stop worrying for good as these solutions would work for both the original model PlayStation 2 as well as the slims.
1. Use Component cables
Using components instead of the standard composite or S video, you'd be able to receive much better audio quality audio in PS2 games.
This is my opinion. A lot of people faced this audio issue. Switching to component cables only solved all their problems effectively. The video component cables are the red, green, and blue wires. Those work both for PS2 and PS3.
Plugin the audio cables using composite video through a third-party S video and composite video cable. That uses the RCA wires (the red and white ones).
Use both the component and optical audio cables as well.
Set up your PS2 by going to System Configuration. You will notice the standard RGB Signal. If it is already selected. it will work for composite as well as S video.
However, if it is not selected, it will fail to remain compatible with the RGB. As a result, there will be audio playing but it wouldn't be able to display signals.
Now switch back to the Standard video input and check whether your PS2 starts running.
Get back to the System configuration and look for the MENU option.
Get to Component Video Out option.
Unplug the video cable and re-plug it again in the component cable. 
Now play any PS2 game and check whether the audio is working or not.
2. A/V Connection
Sometimes the A/V connection might inflict dust and debris. This is why it either gets loose or damaged. To make it worse, the pins might bend or get broken as well. To ensure that the A/V connection is stable and running:
Plug it out.
Clean the pins and wires with either some dry cotton cloth. You could use a dry clean cotton cloth. I'd recommend making a blow because that's easier. However, you need to be careful while cleaning.
Once you complete cleaning, re-plug it again and check.
If cleaning and re-plugging the A/V connection yet brings no audio, consider borrowing some other A/V cable (from your friend or neighbor) whether the cable or your PS2 is defective. 
Replacing a new cable would be easy as they are affordable. However, if the defect lies in your PS2 then you have to seek customer help.
3. Inspect the console
PlayStation Console can get older and inflict damage. To be very honest, no matter how much you get to purchase it, it is still man-made and prone to damage or break easily. Because they get older and need repairing or replacement. 
It might get worse if you get a second-hand one. Since those are used ones, they are pretty likely to wear off easily. 
However, there's a piece of good news that Consoles are not expensive anymore. They are affordable and available. So you can easily grab one and replace it instantly.
4. Modchip and Transistors
Modchip is basically a tiny chip containing special software that enables DRM Protection on the console that you have been using. When there is a modchip with your PS2, you need to check the points. Plug another A/V cable and check whether the connectors are running or not. If the modchip is working fine, try using different other sockets and cables.
In some cases, I have tried a different SCART socket as well as an adapter on both the ports. Connected it to the surround sound system and the audio worked absolutely great!
Sometimes the transistors dry out so you gotta check it as well. In that case, try diagnosing the voltages of the transistor circuit. Along with that, inspect the capacitor and amplifier.
Frequently Asked Questions
This section is going to cover the frequently asked questions concerning your PlayStation2 audio. However, these questions are compatible with PS2 as well as PS3 so you can check them out no matter what.
Why is my PS2 HDMI no sound displaying?
If your PS2 is not getting compatible with the HDMI and displaying no audio even though you are using the composite cables, try checking your adapter. Sometimes the adapter is faulty so you can check that out. Besides, your HDMI TV might take a longer duration to discover the signal of your PS2. In that case, try the component cables. As I mentioned earlier, they are far better than the composite ones as well as the HDMI adapter. 
Why does my PS2 have no sound on HDTV?
This could happen using composite cables. So try switching to component cables. Try connecting with a new console. If your PS2 looks jacked, try cleaning the A/V ports. Try connecting different other inputs to look where the problem persists.
However, if none of these brings any solution, consider that your PS2 is defective and needs repairing or replacement on the whole.
Conclusion
There you go! From my hands-on experience, I have stated all the problems that you could encounter with your PlayStation 2 sound not working. Besides, I have come up with the most exclusive solutions that would work out.
However, you might still face problems. In that case, the PlayStation customer service comes to your rescue right away! So take your PS2 to them and seek their help. Hope it gets sorted out anyway. 
Good luck with that.