"As an Amazon Associate, I earn from qualifying purchases. Without Any Extra Cost to You!"
When you have no option to use a built-in dishwasher, then a portable dishwasher will be a stunning way of cleaning dishes. 
Your dishwasher works great as far as its hose stays on the faucet. But, if the faucet adapter won't fit properly, then the problem arises. 
In this case, you may have to input a new adapter or add a custom adapter with a new faucet. 
What to do if it happens to you? Instead of rushing to any hardware store or seeking professional help, you had better check your dishwasher as our guide suggests. 
Today, we have you covered the issue of the portable dishwasher hose won't stay on the faucet. Plus, we will tell you how to solve this issue by yourself.  
Let's dig deeper into the game of portable dishwashers! 
Table of Contents: 
What's a Portable Dishwasher and How Does a portable Dishwasher Work?
While there is an insufficient area in a kitchen, or there's no way to get water to use for a utensil, perhaps the most convenient solution will be a portable dishwasher. 
That is to say, a portable dishwasher is a great alternative to a traditional built-in appliance. And it is set on wheels, so you can easily roll in and out of the unit as you need.
Interestingly, this kind of dishwasher doesn't connect to a typical water supply. Rather, the unit is connected to a faucet and drips into the sink underside.
In general, most models come with a width of 18 inches. Yet, some may include a 24-inch extent as well.
Great thing is, portable dishwashers can wash as like as built-in dishwashers can wash. 
Yet there are a few dissimilarities in construction and hooking up between in-built and portable dishwashers, but the portable one works almost equally efficiently as the typical one. 
You might be interested in foam coming out washing machine drain
Why a Faucet Adapter is used for a Portable Dishwasher?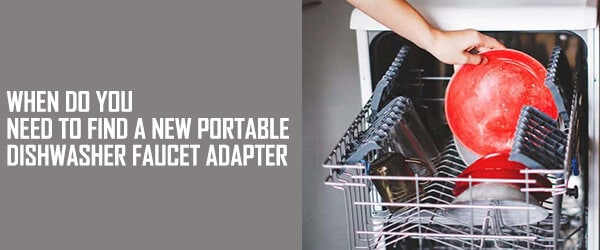 A portable dishwasher incorporates hook-ups that are connected to your kitchen tap. Anyway, the hook-ups don't fit for differences in your faucet lines. That's why a faucet hose or adapter is an important unit for attaching your dishwasher. 
Many portable dishwashers include different faucet hose options to adjust them with faucets.
A faucet adapter includes a hollowed-out point. The hollowed-out point may be threaded/threaded, unthreaded/unthreaded, or threaded/unthreaded. 
In general, the kitchen taps are threaded. That means the threads will be on the exterior. Then, you have to use an unthreaded faucet hose for connecting the dishwasher to the sink.
Pro Tips: According to the experts,  threaded faucets suit better for males and unthreaded faucets are better for females. 
Few portable dishwasher faucet hoses can control hydrostatic pressure (water pressure). Such kinds of hoses come with a faucet aerator that controls the water supply of your dishwasher. 
It is very important to have the right kind of faucet adapter cause it helps to keep a dishwasher safe.
You may read also the whirlpool duet washer won't turn on
When do you need to find a New Portable Dishwasher Faucet Adapter?
If the provided faucet adapter doesn't fit with your portable dishwasher, then you will need a new faucet adapter. 
Open up the sink's faucet aerator and check again. Still, if it doesn't fit properly, this time you have to re-check some issues. 
Perhaps, your portable dishwasher comes with a uniquely constructed faucet and the standard hoses don't fit with it.  Or, the faucet hose of your dishwasher may be faulty. 
What To Do When Portable Dishwasher Hose Won't Stay On Faucet?
We have talked about the portable dishwasher and it works. Plus, you have come to know why a faucet hose is important.
And if it doesn't fit how to find a new portable dishwasher faucet adapter. Now, it's time to get more advance and solve the issue at once. 
Below, we have noted the steps you need to follow if your portable dishwasher adapter doesn't fit. 
Portable Dishwasher Faucet Adapter Doesn't Fit? Do These Steps one by one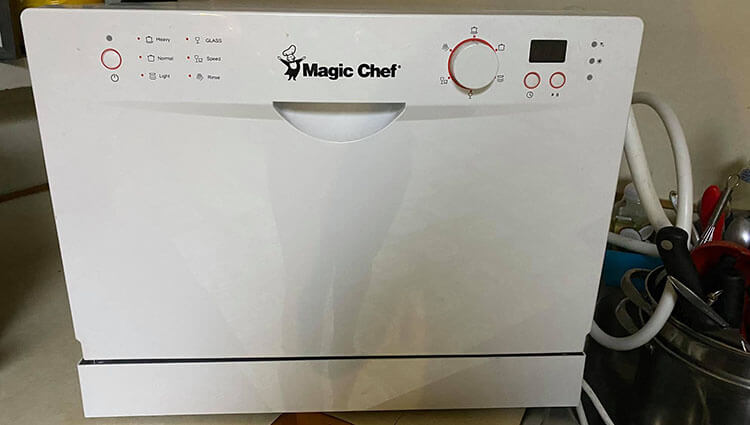 Step 1: Understand the Faucet Thread Size
Usually, the standard faucet adapter comes with a kitchen sinks thread size of 15/16″-27 for men's faucets as well as 55/64″-27 for women's faucets. 
To know the sink thread size, firstly you have to discard the faucet aerator. After discarding it, sum the size of the faucet aerator.
Take the external measurement while it's a male aerator and the inward measurement should be taken for the female aerator. 
The same measurement can be done for your adapter. In general, the faucet hoses have  15/16″-27 for men and 55/64″-27 for women.
When both the faucet and faucet hose will be in standard magnitude, you will require a distinct type of thread. 
Pro Tips: Your portable dishwasher shouldn't have the same size of faucet and faucet adapter threads. 
You may be interested in washing machine water valve won't shut off
Step 2: Recognize the Thread Type
Maximum kitchen faucets are male. First of all, know what kind of thread there is in your faucet. If it is outside, then the faucet is male. And, the interwar one is the female faucet. 
When you have a standard faucet and faucet adapter, and the same type of thread, then the faucet adapter tends not to fit.
A male faucet needs a female adapter. Oppositely, a female faucet will need a male adapter. 
Step 3: Analyze the Portable Dishwasher
Start exploring your portable dishwasher and checking out all its components. Check whether the faucet adapter comes with the correct size and thread type or not. 
Then you should have a glance at the manufacturer's website and analyze the category of dishwasher you have. You should find many options given there for faucet hoses.
Plus, there should be some helpful links on these sites.
You can also ask a manufacturer representative what you need to know. In this way, you will be able to get an easier gateway to solve the problem. 
Even if you want to consult with someone physically, then there would be many hardware stores available in your area. Anyhow, you have to ensure the right information about your dishwasher. 
## And if you understand the right type of adapter that will suit your portable dishwasher, then you can purchase a new faucet adapter from Amazon. Alternatively, you may also go to a local hardware store. 
The adapters are very cheap. Usually, the price ranges from $5-$10. 
If you ask us to recommend a new faucet adapter, here are our recommendations for the best faucet adapter for portable dishwashers. 
Plumb-Pak-PP28003-Dishwashers-Couplings
Danco-36108E-Dishwasher-Adapter-Threaded
Dishwasher-Coupling-Adapter-10521-Antique
Step 4: Use A New Faucet or Customized Fit Piece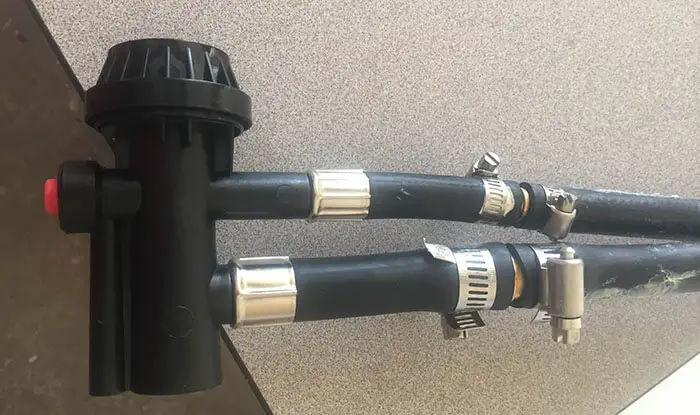 Even, if the last step can't satisfy you, it's high time you need a new faucet or something else. 
When your portable dishwasher comes with a faucet of an unusual extent and structure, any adapter might not be able to fit appropriately. 
In that case, you have to renovate your current faucet into a better one. A standard faucet should be able to fit a faucet hose as well as enable you to get the portable dishwasher ready to wash right away. 
Alternatively, you may also keep your unique faucet fit by adding a custom adapter. How does it work? It'll be specially built regarding your faucet size and shape.
Conclusion
Here we have noted all four ways you should perform one by one. If you analyze your portable dishwasher as we suggested, you should have got a fit adapter staying on the faucet. 
What have you done? Let us know.