"As an Amazon Associate, I earn from qualifying purchases. Without Any Extra Cost to You!"
In 1964 Bose entered the sound world. They Introduced the first acoustic wave music system. That's an innovation of a crisp-clear, real, high-quality sound system. Bose updated the acoustic music to wave music system in the 3rd generation. 
Bose wave is a system that has all in one seated compact box. Bose wave is a well-designed smart and semi-portable device that takes your listening experience to the high end.
Bose uses WaveGuide Speaker Technology that delivers high-performance sound. Enjoy rich, room-filling sound from a small music system that fits nearly any room. Bose took a challenge when they upgraded acoustic to wave music systems; they put hardware the same size but improve sound quality and performance. Bose wave system supported dual alarm system.
I love this Dual alarm; every day I get up at 6 am and my wife goes to her day job at 9 am so she needs a different second alarm.  
I love all of the features and technology of the bose wave music system. Today I will discuss why every music lover needs to take an experience with the bose music system and which features are essential and which are not important also the pros and cons.  
Let's dive in deep…
What is WaveGuide Speaker Technology?
A waveguide speaker is also called a folded horn speaker. Its follow seems like an old phonogram. Waveguide technology uses a small regular traditional speaker but it gains amplification through the waveguide. 
The wave resonates and builds the sound that you have got more volume of air being affected by that tiny speaker. The waveguide amplifies the sound many times and the small amount of sound reverb makes the sound rich, crisp-clear. So we get warmer sounding, richer music out of less power, and a tiny speaker.
Types of Bose wave system
Bose wave music systems have many versions and generations. They started their first acoustic wave. 
Acoustic Wave Music System
Wave Radio
Wave Music System
Wave/PC
The wave music system has many versions. 
Wave Music System II
Wave Music System III
Wave Music System – SoundLink
Wave music system IV
Wave SoundTouch music system IV
I have taken to review two updated Bose wave music versions, wave music system IV and SoundTouch music system IV. Let's jump over the review.
You may read also lacrosse weather station won't connect
Bose wave music system IV Review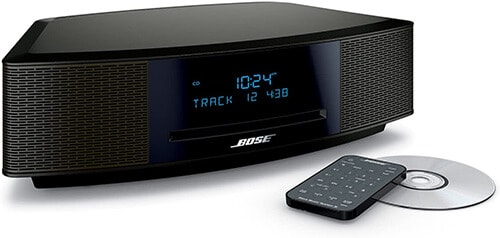 Most adorable Features:
Pre Installed with exclusive waveguide speaker technology that gives you full room-filling sound.
Latest AM/FM tuner technology with a clear text display of song information.
CD/MP3 CD Player supported with repeat, random and continuous play.
Dual Alarm System, Touch top on/off/snooze
Have a strong Aux port for connecting with other resources like(CD/DVD player).
Smart slim remote that controls all of the functions.
Bose wave music system IV has 2 parts one is a slim remote the other is the system itself. The system is a compact box including all of the features CD/MP3/AM/FM with a crystal clear display that provides song information, radio information, and times. 
The design of Bose is updated, fresh and elegant. It's fit for any type of room, kitchen, or bedroom. Bose wave music is a semi-portable device 4.2" X 14.6" W X 8.7" D and (8.4 lbs) and there are no extra parts so you can move it easily to any corner of your house.
The music system also has a touchpad on the top side. When you are placing your hand on the top touchpad can power ON/OFF the system, snooze a sounding alarm and reset the alarm for the next day.
The system's backside has 5 points an Ac power supply port, an External FM Antenna port, an AUX input port, Headphone Jack, and Bose link port. The auxiliary 3.5mm input is used for connecting other audio sources like MP3, and DVD players. 
The Bose Link port makes it easy to connect other accessories like Bose CD changer and your iPod to connect your iTunes music playlist. They have a headphone jack for listening to the stereo privately. All of the control of the music system behind the slim fit remote system.
Pros:
Easy to set up.
Outstanding sound quality.
A compact device that almost supports all stereo functions.
Stereo made by WaveGuide speaker technology.
A dual alarm system sets up two different alarms.
Things to be bothered about:
Really Expensive. 
Some users complained about the Bose user experience. It happened when bose removed buttons from the lid. Now all control depends on the remote. When they are in a dark room they need light to press the exact button (the remote has no light) it's a pain. Some pressing had been misplaced because the remote was too tiny.
Not support Wi-Fi. Wave music has no built-in Bluetooth adapter.
Check the latest price on amazon
Bose wave SoundTouch music system IV Review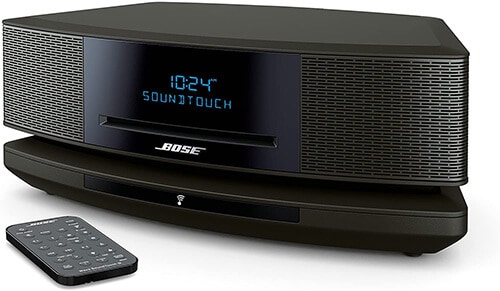 Most adorable Features:
Work with Alexa with an amazing voice control system.
Wireless network compatibility 802.11 b/g/n. With wifi, Bluetooth, and Apple Airplay 2 compatibility.
Access all of your music easily: online music services, internet radios, your personal stored music libraries, CDs/DVD/AM/FM.
Built-in WaveGuide speaker technology that delivers natural, room-fill, crisp clear, and warming sound.
SoundTouch Free app makes your control easy. You can install it on your phone.
Credit card size slim fit IR Remote.
---
SoundTouch music system has 3 parts: System part, SoundTouch adapter part, and slim-fit credit card style remote. The SoundTouch adapter part is a blessing for the Bose wave SoundTouch. Through this adapter, we connect wifi. For the sake of internet connection, Bose attached this adapter part.
Blessing the internet we can connect thousands of internet radio stations, internet music libraries, and personal music libraries by Bose SoundTouch. 
The SoundTouch music system is part of wireless products, from the single-unit music system to the home theater. All music systems work together to play the same music in every room or different music in different rooms
Also, SoundTouch has a built-in Bluetooth adapter. You can pair your Bluetooth-enabled device with SoundTouch and get extra.
Soundtouch has a USB port, and Ethernet Port. By USB you can use other accessories with sound touch. The ethernet port connects your home internet connection physically.
SoundTouch supports the latest audio file formats like- MP3, WMA, AAC, FLAC, and Apple Lossless.
The system unit is all in one compact single unit 10.9cm H x 36.8cm W x 22.1cm D (4.0kg). There are no buttons, only the top side has an invisible touchpad that works with the hand touch system on/off/alarm snooze for the next day. SoundTouch back part has a bunch of connectivity ports like an external FM antenna jack, Ethernet port, USB port, AUX port, BoseLink port, DAB port, Headphone jack, and 120v power supply port.
The most imperial features I have used and I personally liked the SoundTouch app. SoundTouch takes total control of your listening experience from your smartphone or tablet. I love to hear from Spotify.
You will browse popular music services like Apple Music, Spotify, and Deezer also you can listen from internet radio stations through TuneIn. Easily personalize presets for one-touch access to the music you love and control many SoundTouch speakers around your home.
Pros:
The sound is tremendous and is perfect for where it is set up.
Built-in Bluetooth. Bluetooth setup is easy and able to enjoy all music by streaming.
Wifi compatible so you can access your personal music library with internet radio, Spotify, Pandora.
Has a SoundTouch app that gives control to your hand by phone or tablet.
limited one-year warranty.
SoundTouch can control several speakers through the home stereo.
Things to be bothered about: 
Some users complained the SoundTouch app has many bugs, and works sometimes and sometimes not, it's frustrating. SoundTouch is compatible with Alexa but doesn't have a built-in microphone to take voice commands. So that you need to speak to an Amazon Echo, Echo Dot, Tap, or any Alexa-enabled device. SoundTouch has no bass or treble control.
Check the latest price on amazon
How to set up Bose SoundTouch music system?
Bose Wave Music Extreme Features In Details
Sound:
The bose wave music speaker size is small but the sound quality of bose wave music is too big, loud, warming sound with a natural feel. I confirm you will be 100% satisfied with the bose music sound quality. Bose wave music delivers high-quality, room-filling audio without any distortion. It's a thrilling audio experience and in certain rooms, you can not recognize the audio where it is actually coming from.
Design of Compact Unit:
The bose wave music has two colors, Espresso Black and Platinum Silver. The front part of the system unit has 2 tiny speakers(left side and right side), on the middle side a large crystal clear display, and a CD drive. Bose is a button-free system. The system's top part has an invisible touchpad, music system is on/off by hand touching the touchpad.
The back part of the system has a bunch of connecting ports and jack power supply port, FM antenna, AUX port, Headphone jack, BoseLink port some extra port has SoundTouch version DAB(Digital Audio Broadcasting) port, wifi indicator light, Ethernet port, USB port.
Remote: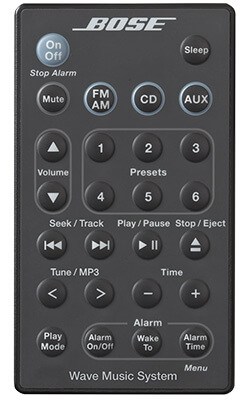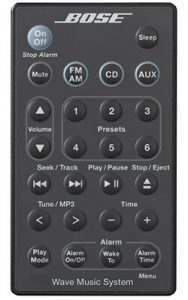 The bose remote is too tiny and fits neatly in the palm of your hand. The remote battery is pre-installed, there are 26 buttons with proper guidance. Every button has clear writing about using purpose. Remote is highly sensitive so you can smoothly control wave music with this remote. Remote has all control buttons like play/push, AM/FM tuning, volume UP/DOWN, Bluetooth pairing, CD/DVD eject, power on/off/alarm snooze. The remote has 6 presets buttons and also has three buttons for the alarm set. 
SoundTouch App:
The SoundTouch app comes with the SoundTouch music system. Setup your SoundTouch music to your home network through the SoundTouch app. As the remote SoundTouch app has 6 preset control that's why you can easily one-touch access Spotify, Pandora, Deezer, and Internet radios through your phone.
SoundTouch app setup requirement for smartphone or tablet any iPad, iPhone or iPod Touch running iOS 8 or later; most Android devices, including Amazon Kindle Fire tablets and Fire Phone, running Android 4.4 or later. For computer Microsoft Windows computers running on Windows 7, Windows 8, Windows 10, or 64-bit Apple Macintosh computers running OS X 10.8 or later.
If you want to get the same features at a low price then check Bose wave radio alternative
Bose wave music system VS SoundTouch
The main advantage of SoundTouch would be the ability to add more speakers in multiple rooms. With the SoundTouch you can control several speakers throughout your home stereo one at a time or all speakers at the same time. The wave music system cannot link to multiple speakers in different rooms.
| Wave Music IV | SoundTouch IV |
| --- | --- |
| AM/FM, CD, DVD, MP3 | Wi-Fi, Bluetooth, AM/FM, CD, DVD, MP3 |
| Optional Bluetooth: Need an External adapter to connect Bluetooth. | Already Built-in Bluetooth adapter Installed. |
| Not Support Alexa. | Alex Voice Control Supported Like Amazon Echo dot. |
| Wave music is not compatible with wi-fi so you can't access online platforms. | Play music through Spotify, Deezer, and access Internet radio. |
| Wireless Network Not Support | Wireless network compatibility: 802.11 b/g/n |
| Wave music is only controlled by remote. There are no apps. | SoundTouch has an app. That makes the control easier by smartphone or tablet. |
Conclusion:
There is no doubt about Bose wave music's sound quality.  Bose is an award-winning wave music system. The price is a little expensive, but if you are a music lover like me then the price doesn't matter for you. The SoundTouch music system takes my listening experience to the high end. In my past user experience, the SoundTouch would be a great addition to your home theater.