"As an Amazon Associate, I earn from qualifying purchases. Without Any Extra Cost to You!"
All Subaru Air conditioning Problems Are Explained!
Generally, the Subaru Outback's air conditioning system includes an air compressor, Condenser, Evap core, receiver dryer, hoses and lines, Expansion valve, thermo sensor as well as controls. Plus, you can see an arrangement of ducting doors with control options.  
These seem great, right?
But things are not that right when you are facing the problem of the Subaru Outback AC compressor not turning on. 
That is to say, if there are any issues with the air conditioning(AC) system in your car, then you must have to perform some diagnoses. And, when there is more than one issue to solve, things might get a bit tougher to diagnose.
Jump with content chunks…
Let us point out the issues regarding your Subaru model.
Subaru Outback AC Is Not Working!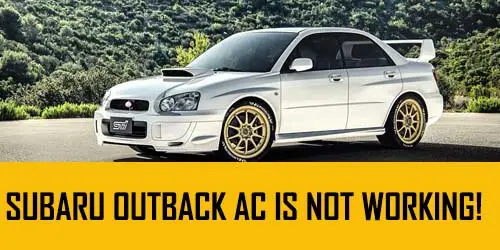 Our Electrotalks team is always prepared to find you to solve all electro problems. This time, we are going to solve the Subaru Outback air conditioning problem.
The 2000 to 2004 Legacy and Outback:
These models may have issues with leaks at the 2 air conditioner hoses. There may be one leak at the compressor to the condenser. And, another one may be at the compressor to the Evaporative core. 
Research says 37% of the time problems occur in the air conditioning compressor for AC Refrigerant Leak. It may run your AC low or empty.
Easy Fix:
You can fix the problem with the R134a refrigerant gas leaking back out. And you have to use leak test equipment for this task.
AC compressor leak testing process
2002 to 2003 Subaru Impreza:
These models come with a problem that the Evaporative core can ice over. Subaru has issued a service bulletin about it.
Easy Fix:
Bring a new thermosensor that is placed in the Evaporative core.  In doing so, you have to remove the Evap core out of your Subaru. And thus, it will partly remove the dash units on your passenger seat. That said, you should replace the expansion valve as well.
You can use this kit to remove the units from your car.  
The 2001 to 2004 Outback with the H6:
Here you will also get some leaky hose problems. 
The newer Ac systems (2005 and up):
The low charge might impact on the air conditioning operation.
Often, we feel depressed while there are issues with our car's air conditioning system. But the true fact is, we should take our ac for servicing at least one time every 4 years. 
Why to perform servicing after a time span?
An ac may lose some of the refrigerants. And it may be replaced with air. In this way, there is moisture in the ac. Then, it systematically goes away through evacuation.  
The air conditioning system has to be re-oiled and recharged with refrigerant. 
Overall, proper maintenance will assure the air conditioner to operate firmly.
Common Reasons Why A Subaru Outback Is Having Air Conditioning Issues:
Let us give a glance at the following pie-chart.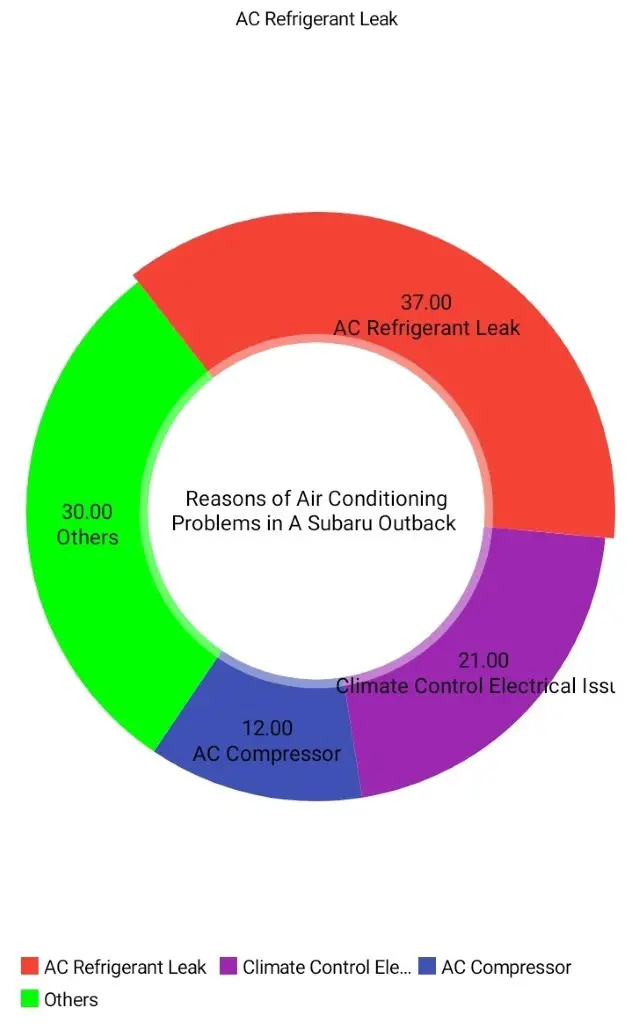 At a glance, the 6 major reasons for the air conditioning problem in Subaru are: 
Issues With AC Refrigerant 
AC Compressor Dies 
The AC Compressor Switch Is Not Okay  
AC Condenser Is Scarred  
A Bad AC Dryer  
A Bad Expansion Valve 
You may fall into a problem ac compressor shuts off few seconds to fix that.
How To Troubleshoot The Subaru Outback AC Compressor Not Turning On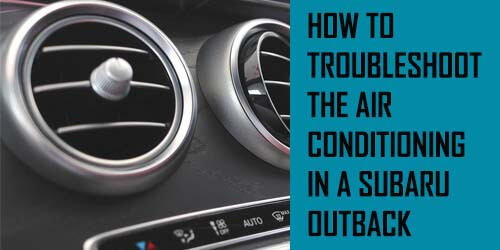 The Air conditioning issues of a Subaru Outback are very correctable if you know the process. However, this is such an expensive task if you go for professionals.
Good thing is, you can save both your time and money by maintaining some DIY tasks to solve the problem yourself. By maintaining the below steps, you will be able to know why the air conditioning is not working in your Subaru Outback.
Step 1
First of all, make an inspection of the controls. Be careful of choosing the air-recirculation button rather than the air conditioning button. 
Step 2
Turn on your car engine as well as turn the air conditioning on. Set the range from bottom to up. Try to hear the concurrent sound to rise while it's turned on high. In fact, the sound comes from a blower fan.
When there is not a typical sound, then you may need to replace the blower motor.
Step 3
Get to the blower motor. Remove the blower motor from the pad. It should be removed after pulling apart the negative battery cable, as well as reducing the screws.
You may be interested to read our solution removes excess oil from ac
Step 4
Check the pilot lights in your Subaru. When the lights are not functioning properly, then go for the control panel or control cables to check.
Step 5
Get the control panel by doing the below tasks periodically. 
Disconnect the negative battery cable
Remove the console box
Set the temperature to "Fully hot" 
Disconnect the temperature control cable
Remove the gear selector trim panel
Unscrew the panel cover
Removing the radio bracket.
Step 6
Check the control panels of AC as you can see whether they are functioning appropriately or not. Let say, check whether they are running with a good amount of resistance. Or, whether they are ending in the right spots.
When you find something wrong here, then there is a fuse problem.
Then, check the fuse box of your Subaru. You will get it by unlocking the driver's door and gliding the part close to the floor to the right side.
You can compare a fuse box with a computer motherboard including numerous colors of plastic fuses within it. Exclude the fuse with a pair of pliers. Then, bring a new fuse in that place. 
Let's Say Goodbye To Subaru Outback Ac Compressor Not Turning On. 
Let's Say Bye:
At the endpoint we talk about many issues about Subaru Ac Compressor Not Turning On and we show how to fix it and why it's happening. Try all of the steps carefully and let me know what steps work for you accurately by Leave a comment.