"As an Amazon Associate, I earn from qualifying purchases. Without Any Extra Cost to You!"
Swamp coolers are very much famous for their eco-friendly feature. As it is mostly situated on the roof of our house, it is widespread that the Cooler motor might get damaged. Let's not get straight down with the word "damaged," let's say the engine is not getting started.
There can be a bunch of problems, beginning with moisture problems to water flow problems. Whatever it is, we can assure you that it is prevalent and happens with almost every user.
Here we are to assure you not to worry at all. This article will explain some widespread problem that happens with the Swamp Cooler that affects the motor. You may find the issues are not that severe and something that you can solve by yourself. 
The common problem with swamp coolers is intermittent or no airflow. And since the motor does not run correctly due to a lack of fresh air supply, the engine does not start.
This dilemma has scarcely ever been caused by mechanical failure. The cause of the problem is an external concern in virtually every other situation. The swamp cooler's fundamental explanation is that the evaporative cooler's circuit breaker and fuse are mounted to avoid damaging the device.
There could be many more easily solved problems like this, and you could do it all by yourself. Let's get started;
Solutions for Swamp Cooler Motor Not Starting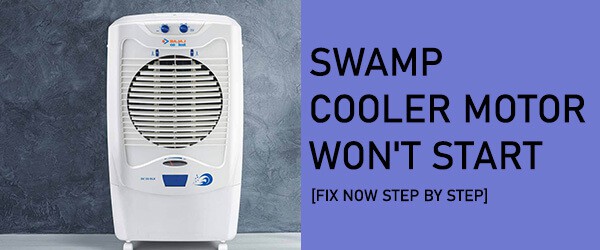 It will be a very disappointing and frustrating moment for the Swamp Cooler owner if the cooler does not get started on a hot day. And if you are reading this now, then you are facing this problem, we assume.
Let's not waste any of your precious time anymore. We will explain some significant and straightforward problems, along with their solutions.
1. Motor Is not getting Enough Voltage.
Your cooler runs on electricity, and you have to make sure that the motor is getting enough electricity to turn it on. If an electrical unit does not get enough voltage for a more extended period, it could get overheated.
As a result, it could damage the whole system. We highly recommend to check the power plug with a voltmeter and determine if there is any problem with the voltage intake. 
2. Swamp Cooler Overflow
Water from a swamp cooler typically drips and makes a puddle for unsuitable storage. In winter, always remove the pads while you stored a swamp cooler, empty the unit, clean the tank and keep the product protected until it is re-useable. 
Occasionally units use extra water, which can overflow due to an unsuitable floating valve.
Dripping water could lead the water overflow in the motor. As a result, the engine can stop working and damage. So make sure you have enough dripping water storage in your swamp cooler.
3. Check for the broken motor belt.
A broken belt is a prevalent issue faced by swamp cooler owners. Often, due to benign old, the belt gets torn, causing the motor not to start. The belt usually lasts for 3 to 4 years. Yet, for faulty manufacture, the belt can get damaged early. So, if the motor belt is damaged, do replace it.
4. Faulty Wiring
It is not uncommon that your cooler has faulty wiring, causing the cooler motor from getting started. 
Look for the wires that lead to the breaker and the fuse to determine the wiring problem. These wires should be flexible and in ideal shape under normal circumstances. You may have defective cabling where the cables are rigid and corroded. 
Check the black areas around the location that links the wires to the circuit breaker. You will need to fix the breaker if the wires along this zone are discolored, black or scorched.
It is essential to fix the cable that goes along with the breaker. It is sometimes an easy job to fix the breaker. The old breaker and source one would have to be replaced as it was. If you have a cooler wiring diagram with you, it should be easy to find a circuit breaker for an evaporative warmer.
5. Damaged Motor Fan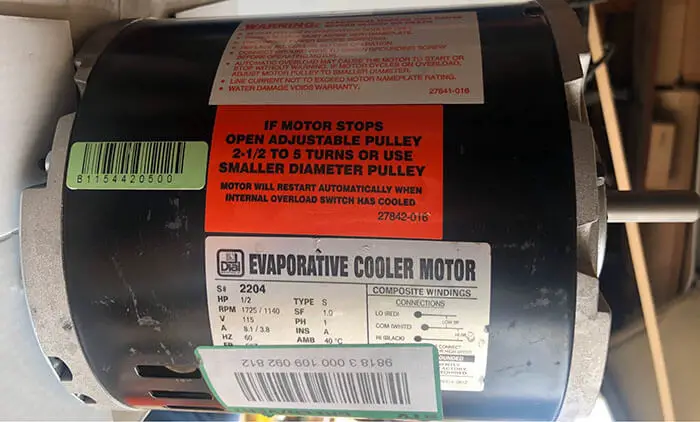 Like the damaged motor belt, the injured motor fan is also why the motor is not getting started. 
You can test the fan by starting it for a while. Disable the connector plug and take off the panel. To see if it is hot, touch the motor. This malfunction is exceptionally unlikely because of the long durability of evaporative fan motors. 
However, if the engine emits heat, the technician will require support. Depending on the seriousness of the problem, the technician may replace or restore the machine. But you can save money and time if you have the skills and technological expertise to fix it.
6. Check for Faulty Thermostats
The built-in thermostat of your swamp cooler works more like your home thermostat. You have to set a temperature you think is more than enough for you to get low, and the thermostat keeps a check on that. Once the temperature matches or gets lower, the cooler stops. 
If your cooler's thermostat is damaged or faulty, it would not determine the temperature and won't turn on the motor. Using a multimeter, check the current continuity of the thermostat. If there is none, then it is time to change the thermostat. 
7. Check the connection
It is the most common and could be an unnoticed issue. Either the power connection is off, or the power cord is damaged, or the home power connection is out for some reason, or there could be an electricity cut. 
Before getting frustrated and going for any more challenging part of repairing, check for the power connection.
Some important FAQs About Swamp Cooler Motor Won't Start
The maximum temperature when the swamp coolers stop working?
Swamp cooler Will decrease air temperature to 30°F when air is arid, like arid south-western climates with a relative moisture content of 30% or less.
Can a swamp cooler run without the pump on?
A swamp cooler works without water flow, but it runs without lubrication and creates permanent harm to the friction pump.
Is a Swamp cooler is capable of running 24/7?
Cooler typically lasts on average between 10 and 12 years. It is best not to let them on a day-to-day basis.
Can vinegar be used to clean the swamp coolers?
Scrub the inside of the cooler. Soak white vinegar in the water reservoir for an hour, then scrub and rinse.
Conclusion
It is not uncommon that electronic, mechanical components tend to break down. They can stop working due to many reasons. Here the most crucial part is not to get frustrated, to keep calm, and look for what is wrong. 
As mentioned, individual steps are the most common issues that happen with the swamp cooler motor. We recommend you to check your cooler after you have gone thoroughly through every part.
And as always, we recommend, that you will, if you feel so, don't hesitate to call in an expert technician. We have arranged these steps so that you don't have to waste any extra money. 
I hope this guide will help you. Good Luck!