"As an Amazon Associate, I earn from qualifying purchases. Without Any Extra Cost to You!"
If your HDMI cable connection fails, then your TV may result in error messages. Often, these error messages make your TV display unable to show video. Yet, the faulty case may come randomly and even more frequently. 
But, luckily you can simply fix the issue with some straightforward HDMI troubleshooting steps.
Today, we will focus on three major workouts for troubleshooting issues with your TV HDMI signal. 
Let's see what to do when HDMI error is unable to display video.
Table of Contents in this article
The first thing you have to detect is to check whether there are any error messages or not.
Below we are listing some error signs that you should see if there are any issues with HDMI Error:
Television is no longer being able to support HDCP video over high purpose connection. (Namely, H1001)
Your TV fails to show video service over HDMI. Plus, the HDCP link integrity assessment goes wrong. (H1005)
Often, you are getting a "No Signal" indication. 
These are some of the most common signs and symptoms of HDMI error for being unable to display video.
To solve this problem, you have to maintain particular troubleshooting methods. 
Now, let us start to troubleshoot as follows:
How to Quickly Fix the HDMI Error Problem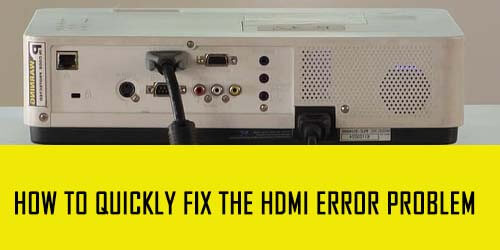 In order to do this, first of all, ensure the HDMI wire is linked up into each unit safely. Then, proceed to follow the below techniques in a sequence. 
Step 1: Keep your digital box off.
Step 2: Switch off your television.
Step 3: Stay awaiting for 10 seconds.
Step 4: Then, switch on your television.
Step 4: Now, switch on the digital box as well.
Step 5: Make an inspection of the HDMI cable of your TV. 
Step 6: Check whether there is "High-speed HDMI" or not. If not, make the label "High-speed HDMI".
Step 7: Try to work with another HDMI cable. 
You can find a lot of alternative HDMI cables on Amazon. If you want to see what's my recommended HDMI cable, then check the product from Amazon.       
Step 8: See what happens with the other HDMI cables.
Alternative way: When you can't find 4K programming, you should use a component cable for this purpose.
What To Do If the HDMI Error Unable To Display Video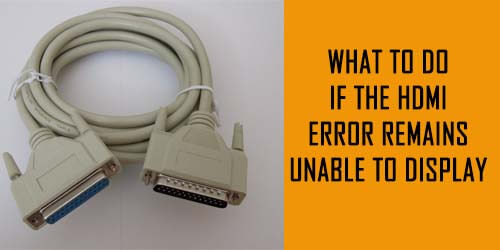 After doing everything as Technique 1 says, if you still find HDMI error is remaining unable to display, then you have to try different ways. 
Now, you should test and undertake several inputs on your television. Precisely, check if your TV is HDCP compatible.
How to know that your television is HDCP compliant:
Scan the box of your TV.
Check out the TV user manual guide. Look over the video-cable section of the user manual. 
Detect whether there is listed HDCP anywhere in the descriptions of video ports. Let, you don't find anything like this, that means your TV is not HDCP-compliant.
Ask the customer service section for the manufacturer of your TV. Tell the model number of your TV to know whether it is HDCP-compliant or not.
Provided that, your television is HDCP-compliant, then you will see the below types of HDCP-compliant connections:
HDMI (4K@60Hz) 
HDCP 2.2 
ARC 
Note: Make sure that your HDMI cord is linked with any of the three connections. That is HDMI (4K@60Hz), HDCP 2.2, or ARC.
Choosing the accurate output given on the television menu.
In doing so, you can use the TV remote input button to fix the accurate input for your TV.
Note: Different TV manufacturers may come up with different terms for the input button. If you see there is a TV/Video, Input, or Source button, these are also input buttons. 
Get HDMI, HDMI 1 or HDMI 2.
Note: Such that I have no remote for my TV, still I can use the input button.
What's more, you might have to use the input button for cycling through the inputs.
While cycling through the inputs, hold 10 seconds on every option as your TV can set a secure connection to the corresponding appliances.
Don't keep any devices between the digital box and the television which doesn't support HDCP. (If there is any non-HDCP-compliant device, try a secondary audio system on your television.)
Even, you may try an optical cable to apply with the audio receiver to your television.
Make Sure that your TV includes the Most Recent Firmware 
Check out the TV manufacturer's webpage to know if your television has the latest firmware. This is also an important part of this troubleshooting.
A Brief Consultation on HDCP 
HDCP is the abbreviation for High-bandwidth Digital Content Protection. In fact, this is a way of digital copy protection. The HDCP secures digital content from being copied.
The most recent standard HDCP 2.2 has been executed up to your needs of you to preserve your content. Earlier, HDCP2.2 was not available when 4K TVs were made. 
Still, most of the 4K TVs available out there in the market are compatible with the HDCP 2.2. If you want to check the HDCP 2.2 compatibility of your television, you need to- 
Review the owner's manual.
Look at the support pages for the television.
Consult the TV manufacturer.
Let's Wrap Up!
This is all about why HDMI error is unable to display video and the simple ways of HDMI troubleshooting. 
Hopefully, it was fruitful for you.
I have an HD Flat Screen TV and when I turn it on it says NO SIGNAL. I have not seen this before as my CABLE BOX is connected and turned ON