"As an Amazon Associate, I earn from qualifying purchases. Without Any Extra Cost to You!"
You are using a monitor that is connected with your CPU with an HDMI to VGA adapter cable and all of a sudden the monitor turns black. Now you are worried as well as pissed. Yes, it often happens while working, and believe me, for gamers it is a nightmare. 
But you need not worry, we are here to solve your problem with the adapter by providing some professional tips. We would like to request you to go through some sequential steps that we will be provided in this article.
We are confident that you will have beneficial results as you will be following the steps given.
If you are not in a hurry then let's spend some of our time to go through some very popular and common professional steps. These steps will surely help you to fix your "all of a sudden" HDMI to VGA adapter not working. 
Let's get started with it.
Fixing HDMI to VGA Adapter Not Working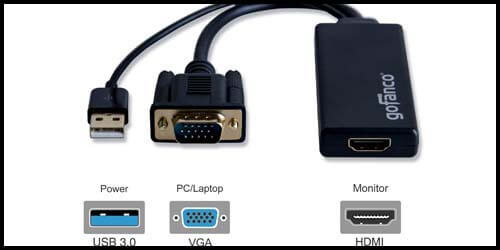 As mentioned earlier it is a nightmare if your monitor is suddenly black in the middle of something. It could be the most irritating moment if it occurs several times in a while.
We always recommend taking advice from professionals who are experts in this kind of problem. Yet we will be introducing you with some instant solution you can apply if you have a sudden blackout. 
Now, without any delay let's get started with it, shall we?
1. A Quick Check on Monitor Power Connection
It often occurs if you have your main power cord loosen from the electrical socket. If you have it hung then it can happen oftenly. We recommend you to use an electrical socket that will tightly hold the power connection plug. 
If you want to fix Low Voltage At Outlet check the guide.
2. Check if it is an Adapter, not a Cable
This would never work if it's an HDMI-to-VGA cable and not an HDMI-to-VGA converter. Some people seem to want to sell HDMI to VGA-cables on the internet since they are marginally less costly than an HDMI converter to VGA. 
But the dilemma, since HDMI is digital and VGA is analog, they're electrically and electronically on numerous worlds, it is not possible to only revert HDMI to VGA using specific wiring.
Check if it's a cable or connector. Bring it back to where you purchased it if it is just a wire! 
Check the graphics settings and what you say on the computer when it's an adapter, and try another display/TV/etc if nothing is said.
3. Bad Port Connection
The issues observable from the HDMI output to the lower video graphics series are signal degradation, signal strength, and no signals.
These problems can arise from a malfunctioning connector or port to the video array panel, or a malfunctioning signal to the HDMI cable from VGA.
As these issues arise as the high-resolution multimedia interface signal is translated to the display graphic array signal, it may lead to irritation and time or efficiency as you try to fix the problem.
You may also interested to check our guide about HDMI Error Unable Display
4. Restarting Power
You need to know whether the laptop isn't running with the HDMI adapter or the device doesn't have a little clearer information, as a laptop user, you can reboot hard by keeping the power button down before it shuts down,
so the battery is disconnected and the AC power adapter is removed. Now keep the power button down for 10-15 sec.
5. Troubleshooting
If you are using windows (any version) you can follow the following steps;
To open the Run dialog box, press the Windows logo key + R. In the Run dialog box, type access, and then click Enter. Type the problem solver and then press Troubleshooting in the Control Panel search window.
Click on Everything in the left-hand pane in the new browser. Click Hardware and devices in the list of choices. 
Follow the instructions on the display by clicking Next.
6. Replacing the Defect Cable
 If any of the above-mentioned steps is not working, then you have a defective adapter. And it is time for you to change it. 
Note that the VGA link is analog and cannot either send or receive audio. The other is HDMI, which can relay high-quality sound as a digital link. 
But if the source signal is from a VGA adapter, you receive only a picture such that the sound is emitted from your TV speakers.
Furthermore, a big distinction between connectors is the type of VGA connector that separates them into two categories so it may be women or males. 
Ideally, you should decide what sort of link your VGA is and pick the connection that suits the situation. Let's have a look at some top-ranking adapter ruling on Amazon;
Flexible cable adapts an HDMI (input) to a DVI (output)

Gold-plated connectors for optimal conductivity

The net jacket offers an extra layer of protection; CL2 rated for residential buildings

Ideal for device-to-HDTV gaming, home-theater entertainment, and more

Cable Dimensions: 72 x 1.6 x 0.6 inches

Installation: Plug and Play

Mini DisplayPort that connects Apple Thunderbolt port to HDMI port

Thunderbolt port compatible with Apple devices such as iMac, Macbook, and Macbook Pro

HDMI port compatible with HDMI-enabled devices such as Blu-ray players, Fire TV, Apple TV, PS4, PS3, Xbox One, Xbox 360, computers, A/V receivers, and more

Supports up to 1920 x 1200 resolution

Product Dimensions: 9.2 x 1.5 x 0.6 Inches

Works with HDTVs, digital cameras or camcorders, MP3 players, and other HDMI-Devices. Supports Ethernet, 3D, and ARC.

Meets HDMI 2.0 standards that supports bandwidth up to 18gbps and backward compatible with earlier versions.
Conclusion
Unlike you, almost all of the monitor users have faced problems with the adapter they are using. The sudden blackout of the screen might have made them as much angry as you become.
But you have to accept it as a normal incident as you will be using an electronic device, which might have flaws.

Above mentioned 6 most popular tips are highly recommended by most professionals and if have already gone through all the process then you already have your desired result in hand. 
As we mentioned above we always recommend professionals to do this kind of work, yet some of these steps can be done by anyone who has the least knowledge of the HDMI to VGA adapter functionalities. Good Luck